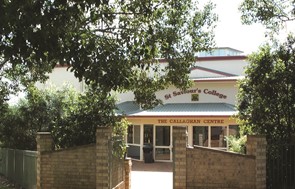 Toowoomba
St Saviour's College, Toowoomba

St Saviour's College is a Catholic day and boarding school for young women in Years 7 to 12. Located centrally within Toowoomba City, the College offers students a comprehensive curriculum with a commitment to caring and quality relationships. Established in 1873, it is one of Toowoomba's oldest schools. The school community remembers and esteems the traditions of the Sisters of Mercy and the work of their founder, Catherine McAuley, whose vision was to teach girls their value and worth. St Saviour's aims to educate students' hearts, minds and spirits.
School Information
Principal Miss Jessica Wade (Acting)
Year Levels Years 7-12
Gender Girls
Boarders Yes
After School Care Yes
Contact the school
AddressNeil Street, Toowoomba Qld 4350
PostPO Box 1929, Toowoomba West Qld 4350
Phone07 4637 1600
EmailWelcomeStSav@twb.catholic.edu.au
Websitewww.ssctwb.catholic.edu.au
Enrol your child...
Make an enquiry
View Google Map
Thank you for contacting St Saviour's College, Toowoomba.
We will be in touch soon.