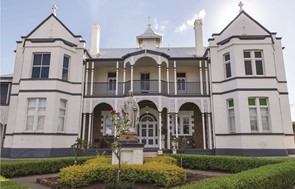 Toowoomba
St Mary's College, Toowoomba

St Mary's College is a Catholic school with 850 boys. Our overall goal is to provide the boys the opportunity to achieve excellence in all areas of their holistic education: spiritual, academic, sporting, cultural and social education from Years 5-12.   At St Mary's College, we focus on and are specialists in boys' education, providing various relevant and modern learning experiences and extra-curricular opportunities.
Our motto is: The crown goes to the one who strives, 'Conanti Corona'. So, all boys are encouraged to strive for excellence and realise their potential in all areas of their holistic education.
School Information
Principal Mr Brendan Stewart
Year Levels Years 5-12
Gender Boys
Boarders No
After School Care Yes
Contact the school
Address129 West Street, Toowoomba Qld 4350
PostPO Box 6237, Toowoomba West Qld 4350
Phone07 4631 7333
Emailreception@stmaryscollege.com
Websitewww.stmaryscollege.com
Enrol your child...
Make an enquiry
View Google Map
Thank you for contacting St Mary's College, Toowoomba.
We will be in touch soon.