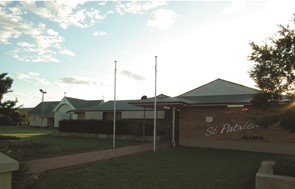 Allora
St Patrick's School

St Patrick's Allora, is firmly committed to working alongside its parents in carrying out the very great task of shaping the lives of the young people in their care. The school community strives to help students grow in their awareness of God by immersing them in a genuine Catholic, supportive community. It is in this endeavour that student's are nurtured to become caring and justice orientated members of society.
School information
Principal Mr Keith Blaikie
Year Levels Years P-6
Gender co-educational
Boarders No
After School Care No
Contact the school
Address 35 Arnold Street, Allora Qld 4362
Post PO Box 47, Allora Qld 4362
Phone 07 4666 3551
Email allora@twb.catholic.edu.au
Website www.allora.catholic.edu.au
Enrol your child...
Make an enquiry
View Google Map
Thank you for contacting St Patrick's School.
We will be in touch soon.