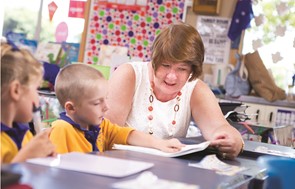 Toowoomba
St Thomas More's Primary School, Toowoomba

St Thomas More's Primary School assists members of it's community to develop their spiritual, intellectual, emotional, social and physical potential so that they may "live life in all its fullness." (John 10:10)
The schools aims to create a vibrant, safe and caring learning environment where the uniqueness of each individual is recognised and celebrated, fostering active partnerships between home, school, parish and the broader community.
School Information
Principal Mr Duane Wann
Year Levels Years P-6
Gender Co-educational
Boarders No
After School Care Yes
Contact the school
Address 152 South Street, Toowoomba Qld 4350
Post PO Box 11308, Centenary Heights Qld 4350
Phone 07 4591 3900
Email stthomas@twb.catholic.edu.au
Website www.stmtwb.catholic.edu.au
Enrol your child...
Make an enquiry
View Google Map
Thank you for contacting St Thomas More's Primary School, Toowoomba.
We will be in touch soon.