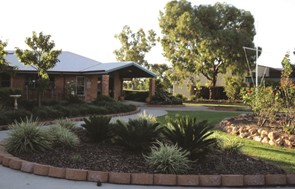 Roma
St John's School

St John's School is a Kindy to Year 12 co-educational school which offers students a comprehensive educational opportunity in a rural setting. From its beginning, the Sisters of Mercy established a caring and respectful ethos based on the values of Compassion, Respect, Justice and Excellence. This ethos continues to permeate every aspect of learning in a student's life. From as young as four years of age, students are not only given an excellent academic grounding, but a sense of belonging to a caring community that embraces the whole life of the school. Throughout the years at St John's and guided by these Christian values, students grow and develop as complete individuals who are encouraged to use their talents and abilities to benefit society and themselves.
School Information
Principal Mr Jim Brennan
Year Levels Years P-12
Gender Co-educational
Boarders No
After School Care Yes
Contact the school
Address Bowen Street, Roma Qld 4455
Post PO Box 41, Roma Qld 4455
Phone 07 4622 1842
Email roma@twb.catholic.edu.au
Website www.roma.catholic.edu.au
Enrol your child...
Make an enquiry
View Google Map
Thank you for contacting St John's School.
We will be in touch soon.