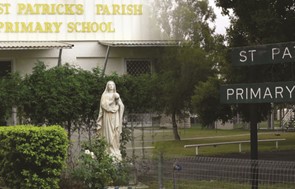 Mitchell
St Patrick's School

St Patrick's School, Mitchell is a Catholic school delivering high-quality inclusive education with Christian care and concern for children in Prep to Year 6. As educators, we focus on teaching students in partnership with families to ensure academic and social wellbeing and success. Our learning community welcomes all families and is enriched by Indigenous connections to our local Gunggari people. We are proud members of the Diocesan Toowoomba Catholic Schools network of 31 schools in south west Queensland. You are invited to explore our website or visit us in person to find out more.
School Information
Principal Ms Kylie Millar
Year Levels Years P-6
Gender Co-educational
Boarders No
After School Care Yes
Contact the school
Address 100 Alice Street, Mitchell Qld 4465
Post PO Box 86, Mitchell Qld 4465
Phone 07 4623 1448
Email mitchell@twb.catholic.edu.au
Website www.mitchell.catholic.edu.au
Enrol your child...
Make an enquiry
View Google Map
Thank you for contacting St Patrick's School.
We will be in touch soon.