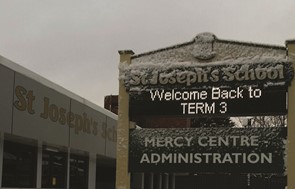 Stanthorpe
St Joseph's School

St Joseph's School is an inclusive Catholic co-educational school forming part of the Diocese of Toowoomba Catholic Schools. Founded by the Sisters of Mercy in 1875, the school offers a seamless Prep to Year 12 education for families in the Granite Belt region of Southeast Queensland and Northern New South Wales.
St Joseph's School has been meeting the spiritual, educational and pastoral needs of young people for more than 140 years.
School Information
Principal Mr Andrew Kendall OAM 
Year Levels Years P-12
Gender Co-educational
Boarders No
After School Care Yes
Contact the school
Address 112 High Street, Stanthorpe Qld 4380
Post PO Box 413, Stanthorpe Qld 4380
Phone 07 4681 5900
Email stanthorpe@twb.catholic.edu.au
Website www.stjosephs.qld.edu.au
Enrol your child...
Make an enquiry
View Google Map
Thank you for contacting St Joseph's School.
We will be in touch soon.