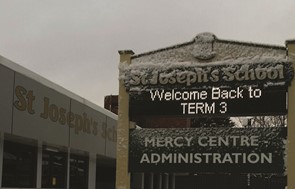 Stanthorpe
St Joseph's School

St Joseph's School is a Catholic Co-educational school catering for students from Preparatory to Year 12. The school offers a seamless Prep to Senior, Catholic Education for families in the Granite Belt region of Southeast Queensland and Northern New South Wales.
School Information
Principal Mr Andrew Kendall 
Year Levels Years P-12
Gender Co-educational
Boarders No
After School Care Yes
Contact the school
Address 112 High Street, Stanthorpe Qld 4380
Post PO Box 413, Stanthorpe Qld 4380
Phone 07 4681 5900
Email stanthorpe@twb.catholic.edu.au
Website www.stjosephs.qld.edu.au
Enrol your child...
Make an enquiry
View Google Map
Thank you for contacting St Joseph's School.
We will be in touch soon.