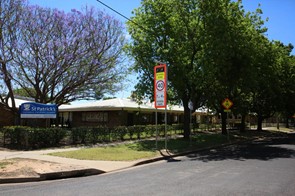 St George
St Patrick's School

At St Patrick's School the aim is to provide quality educational experiences for all. Students are encouraged to explore and learn about the Catholic faith and the understanding of and the love for Jesus. Staff inspire and challenge students to do their best and to develop a love of learning so all students can achieve academic success. In the spirit of St Mary MacKillop, the school believes in the promotion of relationships built upon mutual respect, trust and faith. 
School Information
Principal Mr James Wren
Year Levels Years P-6
Gender Co-educational
Boarders No
After School Care No
Contact the school
Address Balonne Street, St George Qld 4487
Post PO Box 609, St George Qld 4487
Phone 07 4625 3058
Email stgeorge@twb.catholic.edu.au
Website www.stgeorge.catholic.edu.au
Enrol your child...
Make an enquiry
View Google Map
Thank you for contacting St Patrick's School.
We will be in touch soon.