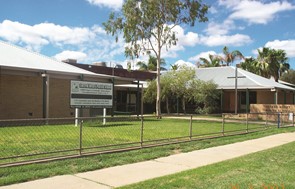 Cunnamulla
Sacred Heart Primary School

Sacred Heart Primary School Cunnamulla, is a Catholic school providing a quality education in a safe and nurturing environment for students from Prep to Year 6.
Working in partnership with families, teachers and community, our small school advantage is that each student is known personally, taught the way they learn best and supported to develop to their full potential - academically, socially, emotionally and spiritually.
We welcome families from all faith backgrounds and are enriched by Indigenous connections in our local community.
School Information
Principal Mrs Cara Haig (Acting)
Year Levels Years P-6
Gender Co-educational
Boarders No
After School Care Yes
Contact the school
Address 46 John Street, Cunnamulla Qld 4490
Post PO Box 224, Cunnamulla Qld 4490
Phone 07 4655 1486
Email cunnamulla@twb.catholic.edu.au
Website www.cunnamulla.catholic.edu.au
More information about the region
Enrol your child...
Make an enquiry
View Google Map
Thank you for contacting Sacred Heart Primary School.
We will be in touch soon.