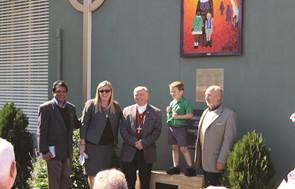 Pittsworth
St Stephen's School

For over 100 years, St Stephen's School has been proudly serving the community of Pittsworth and surrounding areas.  The school provides a quality co-educational Catholic education to students from Prep to Year 6.   The shared vision for the students of St Stephen's is for each person to be highly literate, numerate, open to and excited by the prospect of learning, healthy, well-rounded individuals who are good citizens.
School Information
Principal Mrs Janine Butlin
Year Levels Years P-6
Gender Co-educational
Boarders No
After School Care No
Contact the school
Address Murray Street, Pittsworth Qld 4356
Post PO Box 285, Pittsworth Qld 4356
Phone 07 4693 1627
Email pittsworth@twb.catholic.edu.au
Website www.pittsworth.catholic.edu.au
Enrol your child...
Make an enquiry
View Google Map
Thank you for contacting St Stephen's School.
We will be in touch soon.