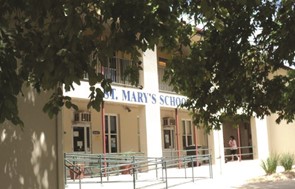 Charleville
St Mary's School

St Mary's School is located in Charleville, Queensland Australia and provides a faith based education for students from Prep to Year Six.
The St Mary's School community is challenged to work towards building an environment whereby all school activities are grounded in values that are congruent with the teachings of Jesus.
Being a rural school, family and community ties are strong and we are committed to maintaining mutually supportive and inclusive relationships.
School Information
Acting Principal Mrs Katrina Dunne
Year Levels Years P-6
Gender Co-educational
Boarders No
After School Care Yes
Contact the school
Address 66 Watson Street, Charleville Qld 4470
Post PO Box 323, Charleville Qld 4470
Phone 07 4654 1638
Email charleville@twb.catholic.edu.au
Website www.charleville.catholic.edu.au
Enrol your child...
Make an enquiry
View Google Map
Thank you for contacting St Mary's School.
We will be in touch soon.