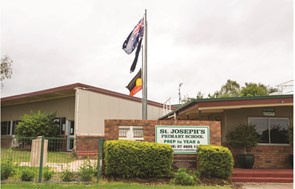 Millmerran
St Joseph's School

St Joseph's School, Millmerran is Catholic co-educational primary school committed to excellence in teaching and learning.  Working in partnership with parents and carers, the parish community, and the broader community of Millmerran, our staff nurture the academic, spiritual, physical and social wellbeing of all students.  
With St Mary of the Cross MacKillop and St Joseph as our guiding examples, our school values justice and peace as we do our best to live meaningful and faithful lives.  
We welcome all families and believe that every child should be given the opportunity to shine in their own unique way. 
School Information
Principal Mr Lawson Short
Year Levels Years P-6
Gender Co-educational
Boarders No
After School Care Yes
Contact the school
Address 25 Walpole Street, Millmerran Qld 4357
Post PO Box 77 Millmerran, Qld 4357
Phone 07 4695 3600
Email millmerran@twb.catholic.edu.au
Website www.millmerran.catholic.edu.au
Enrol your child...
Make an enquiry
View Google Map
Thank you for contacting St Joseph's School.
We will be in touch soon.