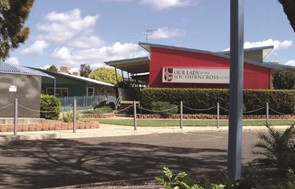 [ + ]

[ - ]

Dalby
Our Lady of the Southern Cross College
Our Lady of the Southern Cross College is a Prep- Yr12 College. Prior to 2008 St Columba's, established by the Sisters of Mercy in 1877, was the primary school and St Mary's, established by the Christian Brothers in 1962, was the secondary college.  The unification of the two schools began late in 2006 and throughout 2007.
Our primary purpose is to provide quality education within the framework of the Catholic Christian tradition. The whole College community - staff, parents, pastors and students - works in partnership to achieve this end.
Current enrolment stands at approximately 770 students with 455 students in the Primary section of the College.
School Information
Principal Mr John Hegarty
Year Levels Years P-12
Gender Co-educational
Boarders No
After School Care Yes
Contact the school
Address 2 Nicholson Street, Dalby Qld 4405
Post PO Box xx, Dalby Qld 4405
Phone 07 4672 4111
Email dalby@twb.catholic.edu.au
Website www.dalby.catholic.edu.au
Enrol your child...
Make an enquiry
View Google Map
Thank you for contacting Our Lady of the Southern Cross College.
We will be in touch soon.