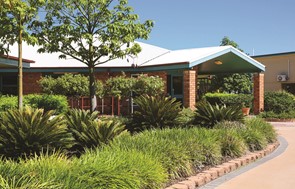 Roma
St John's School

Established in 1881 by the Sisters of Mercy, St John's School achieves a high standard of education aiming to provide a holistic education for the children in its care: spiritually, academically, socially, physically and culturally.
St John's sees itself as working with home and community towards guiding students through many stages - towards perceptive understanding, mature judgement, responsible self-direction and religious and moral autonomy - to prepare in their becoming fully participating Christians in society.
School Information
Principal Mr Jim Brennan
Year Levels Years P-12
Gender Co-educational
Boarders No
After School Care Yes
Contact the school
Address Bowen Street, Roma Qld 4455
Post PO Box 41, Roma Qld 4455
Phone 07 4622 1842
Email roma@twb.catholic.edu.au
Website www.roma.catholic.edu.au
Enrol your child...
Make an enquiry
View Google Map
Thank you for contacting St John's School.
We will be in touch soon.