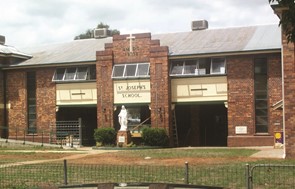 Chinchilla
St Joseph's School

St Joseph's School is located in Chinchilla, Queensland Australia and provides a faith based education for students from Prep to Year Six.
It is a welcoming, vibrant and inclusive learning community which embraces the dignity and unique qualities of each child. Fostering a passion for learning and following in the footsteps of Christ, St Joseph's students strive for excellence in all areas of life.
School Information
Principal Mrs Melissa Hobson
Year Levels Years P-6
Gender Co-educational
Boarders No
After School Care Yes
Contact the school
Address Middle Street, Chinchilla Qld 4413
Post PO Box 467, Chinchilla Qld 4413
Phone 07 4662 7850
Email chinchilla@twb.catholic.edu.au
Website www.chinchilla.catholic.edu.au
Enrol your child...
Make an enquiry
View Google Map
Thank you for contacting St Joseph's School.
We will be in touch soon.