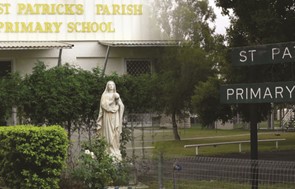 [ - ]

[ + ]

Mitchell
St Patrick's Primary School

St Patrick's provide a high quality inclusive education with Christian care and concern for all children Prep to Year six.
St Patrick's, founded by the Sisters of Mercy in 1925, maintains a strong and distinct Catholic culture enriched by its dedicated staff, families and parish community. Our school promotes a safe and nurturing environment in which all students have the opportunity to grow.
As a Catholic school we:
build strong connection between community and school
teach Gospel values
achieve academic success
School Information
Principal Miss Emily Perry
Year Levels Years P-6
Gender Co-educational
Boarders No
After School Care Yes
Contact the school
Address 100 Alice Street, Mitchell Qld 4465
Post PO Box 86, Mitchell Qld 4465
Phone 07 4623 1448
Email mitchell@twb.catholic.edu.au
Website www.stpatricksmitchell.com.au
Enrol your child...
Make an enquiry
View Google Map
Thank you for contacting St Patrick's Primary School.
We will be in touch soon.