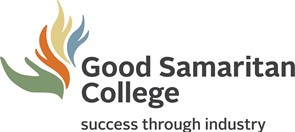 Toowoomba
Good Samaritan College, Toowoomba

Good Samaritan College is an ungraded unique learning environment that provides customised educational experiences for young people. It is a privilege to provide learning programs that ensures the realisation of success through industry for each person, as s/he progresses through their individual learning journeys. We empower the staff and students to co-create high-quality authentic and individualised learning programs that support the learning and well-being of our young people.
School Information
PrincipalMrs Libby Rosentreter
Year LevelsYears 7-12
GenderCo-educational
BoardersNo
After School CareYes
Contact the school
Address63 Ruthven Street, Toowoomba Qld 4350
PostPO Box 169, Harlaxton Qld 4350
Phone07 4616 8200
Email                                  gsc@twb.catholic.edu.au
Websitewww.gsctwb.catholic.edu.au
Enrolment information...
Make an enquiry
View Google Map
Thank you for contacting Good Samaritan College, Toowoomba.
We will be in touch soon.