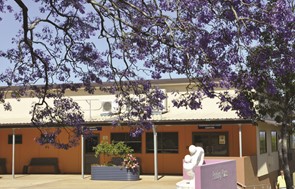 [ - ]

[ + ]

Toowoomba
Mater Dei Primary School

Mater Dei Primary School is a Catholic, co-educational school catering for children from Prep to Year 6. At Mater Dei, we aim to cultivate a welcoming and positive climate in which students, staff, parents and parishioners feel a true sense of belonging and commitment to a living, faith community. In light of our vision "To teach as Jesus did" the growth of each student is fostered through love, tolerance and justice. Learning takes place in a climate of respect for each person's dignity and acceptance of their uniqueness. Through an atmosphere of academic and pastoral care, students are equipped with the learning and personal skills necessary to help them take their place in the twenty-first century.
School Information
Principal Mr Chris Bartlett
Year Levels Years P-6
Gender Co-educational
Boarders No
After School Care Yes
Contact the school
Address 53 Curzon Street, Toowoomba Qld 4350
Post 53 Curzon Street, Toowoomba Qld 4350
Phone 07 4637 6100
Email materdei@twb.catholic.edu.au
Website www.mdpstwb.catholic.edu.au
Enrol your child...
Make an enquiry
View Google Map
Thank you for contacting Mater Dei Primary School.
We will be in touch soon.