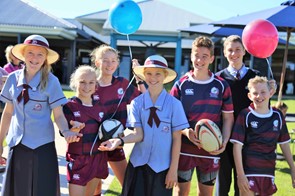 [ - ]

[ + ]

Toowoomba
Mary MacKillop Catholic College

Mary MacKillop Catholic College operates as a centre of excellence, providing meaningful opportunities for our students to attain their personal bests in whatever endeavour pursued – whether this be academic, spiritual, pastoral, artistic or sporting. We trust that excellence will equally be recognised in the quality of the character of the alumni of our College.
School Information
Principal Mr Chris Gabbett
Year Levels Years P-11
Gender Co-educational
Boarders No
After School Care Yes
Contact the school
Address 2 Kratzke Road, Highfields Qld 4352
Post PO Box 15, Highfields Qld 4352
Phone 07 4698 7777
Email highfields@twb.catholic.edu.au
Website www.highfields.catholic.edu.au
MMCC Prospectus
Enrol your child...
Make an enquiry
View Google Map
Thank you for contacting Mary MacKillop Catholic College.
We will be in touch soon.