Media releases
WELCOMING OUR NEW PRINCIPALS FOR 2021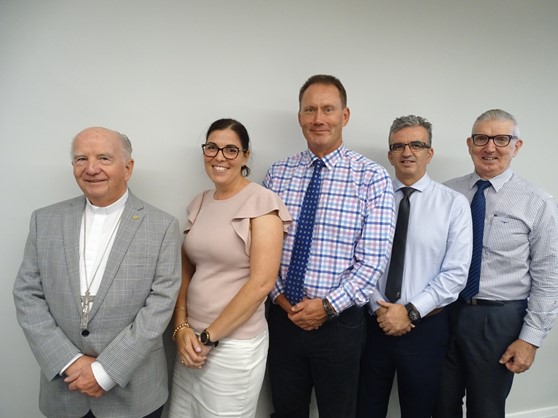 As the new school year approaches, parents, staff and students are starting to get excited and many are ready to return to school for 2021.  Toowoomba Catholic Schools has this week welcomed three new principals to the Diocese.
Brendan Stewart is joining the St Mary's College, Toowoomba team, and is excited to be leading another College with an Edmund Rice philosophy.  
As a former accountant with KPMG, Brendan moved to education in 1993 and is a passionate advocate for boys' education. He is also a music enthusiast, and his teaching specialties include Economics and Religious Education.
"I believe Catholic Education gives all of our students the opportunity to be the best that they can be and be all that God created them to be and that is why Catholic Education is unique," said Brendan. "I have dedicated myself to helping young men realise their full potential and to set them up for success beyond school. Sometimes they need an extra helping hand and this is something that I think St Mary's College does really well."
Keith Blaikie returns to Toowoomba Catholic Schools in 2021, to lead St Patrick's School, Allora - having been Assistant Principal for Religious Education at St Stephen's School, Pittsworth prior to his recent role at Downlands College.

"I look forward to returning to a rural community in my first principalship. Having taught in Charters Towers and in Pittsworth, I believe that you can get an excellent education in a rural school. St Patrick's offers this to the students of Allora and surrounds and I am keen to continue to lead the excellent work that the staff of the school have established," said Keith. 
St Mary's School, Charleville is also to welcome a new acting principal, Katrina Dunne who is well known to the school as a parent and in Charleville as the Deputy Principal of the Charleville School of Distance Education. 
"I am keen to continue to build the collaborative professional learning community across the schools in Charleville," said Katrina, "And with the Diocese support, that has already exceeded my expectations just from the induction and orientation we have had this week, I can't wait to get back to Charleville knowing that there is a whole team there to help with every aspect of school life."
…ends…
CONTACT:           
Donna Kerr | Communications Officer | 07 4637 1408 | 0428 793 718 | donna.kerr@twb.catholic.edu.au