Media releases
TOOWOOMBA CATHOLIC SCHOOLS STAFF SUPPORT STANTHORPE COMMUNITY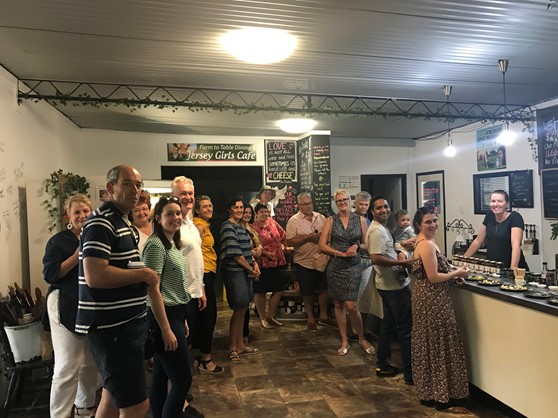 On October 27th, a busload of staff and friends of Toowoomba Catholic Schools headed south-west for 'Support Stanthorpe Sunday.'  The group enjoyed shopping locally for an hour and a half at businesses who opened especially for the morning, before embarking on a jampacked itinerary visiting local tourist destinations.
On a deeper level, the trip was organised to show support for the families of St Joseph's School, Stanthorpe, the parish and wider community as they struggle with the drought, the aftermath of the bushfires and all that it encompasses. The trip was also an opportunity for the Toowoomba Catholic Schools community to show some friendly faces and share a smile and a laugh whilst starting some Christmas shopping, sipping coffee, wine tasting, sampling chocolates and wide array of local produce.
Angie Sims from St Joseph's School, Stanthorpe organized the itinerary with local business owners. 'We visited Jamworks, Brass Monkey Brew House, Washpool Farm Soaperie, Ballandean Estate Wines, Ashburn Strawberry Farms, Stanthorpe Cheese and Sutton's Juice Factory Cider and Café, 'said Angie. 'It was a busy day, and everyone had a lovely time Christmas shopping, sampling and buying our local produce and soaking up our warm hospitality.'
 The visitors are keen to plan another visit to do it all again and support the local community.