Media releases
TOOWOOMBA CATHOLIC SCHOOLS REPRESENTED AT THE QUEENSLAND UNITED NATIONS STATE CONFERENCE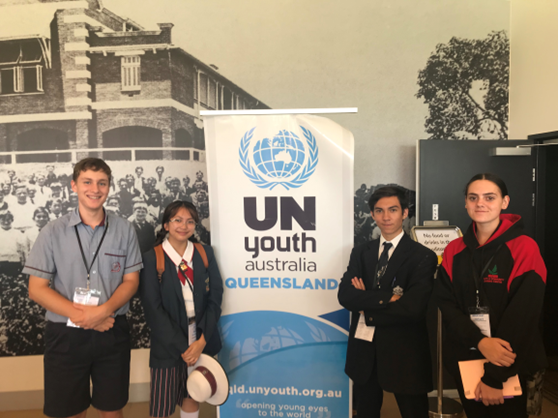 Stuart Krautz (St Mary's College, Toowoomba), Connor McKerrow (Mary MacKillop Catholic College, Highfields), Jydaya Gorridge (Youth and Community Learning Centre, Toowoomba) and Zina Dorado (St Saviour's College, Toowoomba) attended alongside 130 delegates from secondary schools from across QLD and NSW.
Throughout the Conference students had the opportunity to participate in model UN debates and interactive problem-solving challenges, engage in workshops that taught them about security in a global context and attend a 90s themed, dinner, dance and trivia event.
Students also heard from eminent minds in the geopolitical landscape that included Alexander Bellamy (Director of Asia Pacific Centre), Terri Butler (Australian Industrial Relations Lawyer),
Charles Sampford  (Griffith University Foundation Dean, Professor of Law, and Research Professor in Ethics), and Dario Morosini (Deputy State Director of the Department of Foreign Affairs and Trade Queensland).
Our young people benefited greatly from having an opportunity to think globally and network with a broader community. The United Nation's State Conference was the perfect forum for students to continue to develop their critical thinking skills and apply them to 'real world' situations.
 "The Conference had a focus on 'Security', I proposed sanctions, utilised my critical thinking skills to pose resolutions to high level problems and heard from some of Australia's most eminent identities in Law, Ethics and Politics," said Connor McKerrow from Mary MacKillop Catholic College, Highfields.  
 "The Conference sought to provide an opportunity for students to readily engage in high level advocacy – for when students find their voice, they can become agents of positive change for their own communities, a notion that aligns well with our Catholic Social Teachings," said Ryan Baines, Cross Campus Chaplain.