Media releases
TOOWOOMBA CATHOLIC SCHOOLS LONG SERVICE AWARDS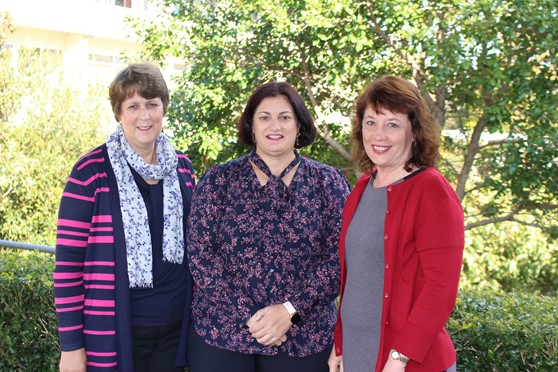 During the coming week Toowoomba Catholic Schools will recognise those staff throughout the diocese who have achieved a significant tenure within the organisation.  Each year during Catholic Education Week we acknowledge those who have given 20, 25, 30 ,35, 40 and 45 years of service; whether this has been in the Toowoomba Diocese or across other Catholic Dioceses within Australia.
Two of our staff are celebrating 40 years of service this year.  One of those people is Alwyn Rix. Alwyn has been teaching in Catholic education for the past 40 years and for 36 of those years he has been at St Mary's College, Toowoomba. During this time, Alwyn has held many middle leader positions including, Head of Department – Technology and Year 10 Coordinator. Alwyn regularly volunteers to assist at BBQs, breakfasts and other social events at St Mary's College and has initiated and participated in many camps, retreats and excursions including the Japanese tour and the European History Tour. One of Alwyn's proudest initiatives was establishing sailing at the College.
"St Mary's has been a wonderful place to teach. As a young teacher, you think you can change lives. With time you realise you're the one that changes. Now I hope my teaching influences students to make changes," said Alwyn.
College Principal, Michael Newman said, "Alwyn has been an outstanding educator over many years. He is always positive, a wonderful role model and professional in his dealings with the young men of St Mary's College. Four other staff at St Mary's College will receive Long Service Awards this week. Phillip Cutler (35 years), Brian Steer (30 years), Michael Newman (30 years) and Frank Strachotta (20 years).
St Saviour's Primary School has three staff members who are being recognised with a Long Service Award.  Judy Smith, Assistant Principal: Religious Education (APRE) celebrates 35 years, Principal, Madonna Sleba celebrates 30 years of service and Shelley Murphy will receive an award for 20 years of service.
Principal, Madonna Sleba has worked within the Catholic education system in the Archdiocese of Brisbane and in Toowoomba Catholic Schools for twenty-five years.  Madonna said, "Catholic education has motivated me to reach my greatest potential as a leader of education. Providing high quality educational opportunities for students each day is an incredible privilege that I don't take lightly. I will be forever grateful to the families and friends I have met and continue to meet through working in the Catholic system for their support and inspiration."
Judy Smith has many fond memories of her first teaching position at St John's, Roma where the school community was like a family to her. "We worked together and socialised together, making the most of our time out west. Since 1987, I have been in Toowoomba, first at Sacred Heart and then to St Saviour's Primary and still, I feel blessed to have spent time in these wonderful communities, with amazing, dedicated staff, supportive, appreciative parents, surrounded by boys and girls who inspire us all to do our best," said Judy Smith, Assistant Principal, Religious Education.
Shelley Murphy has been a School Officer at St Saviour's Primary School for 20 years. "I have been very fortunate to work with some great Principals and staff. I have really enjoyed my time here as every day is never the same," said Shelley.

Nicole Davies is another teacher who is celebrating 40 years with Catholic Education.  Nicole has spent the past 30 years at St Joseph's College, Toowoomba and is currently the middle leader for science.  Nicole is a passionate biologist and energetic teacher.
Brian Cantwell is celebrating 25 years teaching at St Joseph's College.  Brian is the middle leader of Design Technology.  Scott Edwards and Jaye Singleton are both being acknowledged for 20 years' service. Both Scott and Jaye have worked at St Joseph's College for their entire service.  Jaye is a teacher aide that has worked in many areas of the College.  Scott is passionate about sport and student's personal growth through sport and is also a Pastoral leader.
A full list of those receiving Long Service Awards is detailed below.  The awards will be presented throughout the week at each school's Catholic Education Week celebrations.
Catholic Education Week aims to raise awareness and celebrate the strengths and distinctiveness of Catholic Schools. It provides an opportunity for us as a school to celebrate our Catholic identity, the fundamental role we play within our local community, and the many positive learning experiences that take place every day. 

It seems fitting that we should acknowledge our staff members who have served an appreciated period of employment during this week.
School

Name

Years

Assumption College, Warwick

Kerri Collins

Carol Sharp

25

20

Holy Name Primary School, Toowoomba

Kim Jones

25

Mary MacKillop Catholic College, Highfields

Loretta Simmons

20

Mater Dei Primary School, Toowoomba

Jackie Cash

Heidi Robinson

35

25

Sacred Heart Primary School, Toowoomba

Rhonda Gath

20

St Anthony's Primary School, Toowoomba

Louise Pfingst

25

St Francis de Sales, Clifton

Linda Fogarty

25

St John's School, Roma

Angela Brennan

Donaugh Shirley

Carmel Treasure

Steve Swires

Michelle Chinnery

30

30

30

20

25

St Joseph's College, Toowoomba

Brian Cantwell

Nicole Davies

Scott Edwards

Jaye Singleton

25

40

20

20

St Joseph's School, Millmerran

Sharon Cox

20

St Joseph's School, Stanthorpe

James Armstrong

Megan Mahoney

Mary McLucas

35

30

35

St Mary's College, Toowoomba

Phillip Cutler

Michael Newman

Alwyn Rix

Frank Strachotta

Brian Steer

35

30

40

20

30

St Mary's Primary School, Warwick

Katherine King

Maria Richards

25

35

St Patrick's School, St George

Shelley Lindores

35

St Saviour's Primary School Toowoomba

Shelley Murphy

Judy Smith

Madonna Sleba

20

35

25

Youth and Community Learning Centre, Toowoomba

Barbara Wuersching

35

Toowoomba Catholic Schools Office

 

John Coman

Janelle Whitbread

25

20