Media releases
TOOWOOMBA CATHOLIC SCHOOLS LONG SERVICE AWARDS – HUSBAND AND WIFE CELEBRATE 40 YEARS WORKING TOGETHER IN THE DIOCESE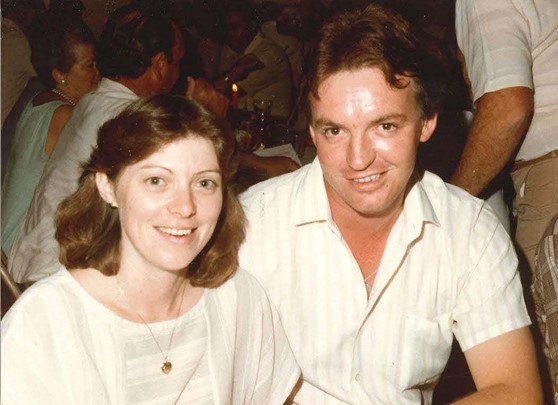 During the last week Toowoomba Catholic Schools recognised those staff throughout the diocese who have achieved a significant tenure within the organisation. 
"Each year during Catholic Education Week we acknowledge those who have given 20, 25, 30 ,35, 40 and 45 years of service; whether this has been in the Toowoomba Diocese or across other Catholic Dioceses within Australia. The awards are presented throughout the week at each school's Catholic Education Week celebrations," said Dr Pat Coughlan, Executive Director: Catholic Schools.
"This year eight of our staff are celebrating 40 years of service.  Two of those staff members are Jan and Paul Watkins who are married and have both worked in the Diocese, often at the same school for 40 years."
Jan and Paul moved from the United Kingdom in January 1980 to join family living in Australia. Paul's father was principal of the Catholic school in Monto and his mother was a staff member at the school. He also had two brothers living in Australia. Paul and Jan had just finished their education degrees in Birmingham before they embarked on their Australian adventure.
Work was scarce at the time but after a few months Paul received a phone call telling him there was a teaching position available at St Joseph's School, Stanthorpe.
"I remember packing everything we had in the car and driving from Monto to Stanthorpe, it was the coldest place I had ever been in my life," said Paul. Shortly after Jan began teaching at the school too. They stayed for three and a half years.
Following Stanthorpe Jan was transferred to St Mary's, Warwick, and Paul to St Patrick's, Allora.  Paul then became the first lay principal at St Maria Goretti, Inglewood and Jan a teacher.
"We had a great time in Inglewood, our son was born there. Back in those days we didn't have a lot of choice about where and when you were transferred, we spent a lot of time in small western schools. They were great towns, the schools had good staff and teachers who supported each other and there were very few issues with the students," said Paul.

Thereafter Paul was principal at St Joseph's School, Millmerran and finally principal at St Mary's School, Goondiwindi where their children grew up. Jan also taught at both schools.
"I have fond memories of when we first joined the Diocese of Toowoomba Catholic Schools, back then it was relatively small and like a family and our children also grew up within this family," said Jan.
"We always depended on each other as we had no family close by, we appreciated the support of our local school communities," said Paul.
In 1999 Toowoomba Catholic Schools Office (TCSO) was starting to grow and train staff in IT. They built a facility in Dalby where all staff from around the Diocese received training in IT skills. Paul was moved here and 'after that jobs kept morphing at TCSO,' said Paul.  He has been the Information Services Operations Manager for the last five years. Paul said that he totally enjoyed his teaching days and looks at opening one of the first Prep facilities at St Joseph's, Millmerran and at St Mary's Goondiwindi as highlights of his time in the schools.
"It's great to see the infrastructure now in schools in terms of IT. We employed our first tech in 2004 and now we have fourteen techs in schools and five techs that travel to various schools. The new TCSO building was a challenge for our IT services, we had the opportunity to build the infrastructure and associated services from scratch, something that rarely happens in any organisation."
Jan has been working as a Teacher Librarian for Sacred Heart Primary and St Anthony's Primary, Toowoomba since 2015.  She began working as a Teacher Librarian in the year 2000.  A big challenge at first as Jan was visiting seven schools.  
"I always loved my work as a classroom teacher and initially missed having my own class however I soon realised that I could have an impact on every child in every class."
Jan hopes to continue in her current position until she decides to retire.
"Catholic Education Week aims to raise awareness and celebrate the strengths and distinctiveness of Catholic schools. It provides an opportunity for us to celebrate our Catholic identity, the fundamental role we play within local communities across the Diocese, and the many positive learning experiences that take place every day. 

"It seems fitting that we should acknowledge our staff members who have provided such long service and been integral to student's success during this week," said Dr Coughlan.
A full list of those receiving Long Service Awards is detailed below. 
20 years of service 
Toni Cox
Assumption College, Warwick
Karen Lambert
Assumption College, Warwick
Cara Haig
Sacred Heart Primary School, Cunnamulla
Kelli Pacey
Good Samaritan College, Toowoomba
Linda Charlton
St Joseph's School, Stanthorpe
Frances Gregory
Mater Dei Primary School, Toowoomba
Nicole Kemp
Our Lady of Lourdes Primary School, Toowoomba
Christine Fisher

Our Lady of Lourdes Primary School, Toowoomba

Kathleen Follington
St Stephen's School, Pittsworth
Ellen Regan
St John's School, Roma
Chris Rosentreter
Sacred Heart Primary School, Toowoomba
Lucy Burton
St Joseph's College, Toowoomba
Debbie Ditchman

St Joseph's College, Toowoomba

Madeleine Minns

St Joseph's College, Toowoomba

Jennifer Stead

St Joseph's College, Toowoomba

Annette Warby

St Joseph's College, Toowoomba

Liz Frame

St Mary's College, Toowoomba

Sheryl Pilkington

St Mary's College, Toowoomba

Sallyanne Callaghan

St Mary's College, Toowoomba

Anita McVeigh

St Saviour's Primary School, Toowoomba

Julie Robinson

St Saviour's Primary School, Toowoomba

Deb Murphy

St Thomas More's Primary School, Toowoomba

Jane Murphy

Toowoomba Catholic Schools Office

Sharon Young

St Mary's School, Warwick
25 years of service 
Peter Gordon
Assumption College, Warwick
Debra Dunsdon
Sacred Heart Primary School, Cunnamulla
Jacqueline Jenkinson
Our Lady of the Southern Cross College, Dalby
Katrina Walton

Our Lady of the Southern Cross College, Dalby

Craig Faessler
Mary MacKillop Catholic College, Highfields
Kylie McKenzie
Our Lady of Lourdes Primary School, Toowoomba
Andrew Fellenberg
St Joseph's College, Toowoomba
Narelle Jackson
St Saviour's Primary School, Toowoomba
Paula Wagner

St Saviour's Primary School, Toowoomba

Tracey Cullinan

St Joseph's School, Stanthorpe

Erin Hilton

St Mary's School, Warwick
30 years of service
Naomi Goddard
Mary MacKillop Catholic College, Highfields
Linda Hodges
St Joseph's College, Toowoomba
Carol Denis
St Thomas More's Primary School, Toowoomba
35 years of service
Liz Wagner
Our Lady of Lourdes Primary School, Toowoomba
Fr Ray Crowley
St Joseph's College, Toowoomba
Johanna Campbell
St Joseph's School, Stanthorpe
Catherine Kimmorley
Toowoomba Catholic Schools Office
40 years of service
Paul Watkins
Toowoomba Catholic Schools Office
Marg Dornbusch
Mater Dei Primary School, Toowoomba
Damian Mollison
Our Lady of Lourdes Primary School, Toowoomba
Jan Watkins
Sacred Heart Primary School, Toowoomba
Jennifer Guild
St Mary's College, Toowoomba
Rodney Logan
St Mary's College, Toowoomba
Roland Poulton
St Joseph's School, Tara
Loretta McGill
Toowoomba Catholic Schools Office