Media releases
TOOWOOMBA CATHOLIC SCHOOLS EXCELLENCE AWARDS - FINALISTS AND RECIPIENTS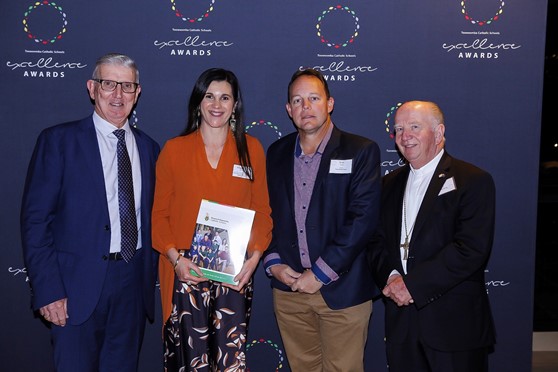 These awards showcase the exemplary leadership, teaching and classroom support evident in our schools. This year we received over 100 nominations for the awards celebrating the passionate and inspirational people who make up the Toowoomba Catholic Schools community.
Finalists and their nominators were invited to attend the TCS Excellence Awards presentation dinner last night at Preston Peak Winery, when the recipients of each award were announced.
Award sponsors for 2019 were Australian Catholic Superannuation and Retirement Fund, Data#3, Salary Packaging Australia and Toowoomba Toyota.
Finalists and award recipients are listed below.
 Excellence in Education Support

Teaching and learning support

Rebecca Brownhall

Teaching and Learning Directorate

Eileen Moyle  

Teaching and Learning Directorate

Anne Woodcroft-Brown

Mater Dei Primary School, Toowoomba

Administration, finance and facilities support

Debbie Menkins

Sacred Heart Primary School, Toowoomba

Angelina Sims 

St Joseph's School, Stanthorpe

Bryan Vickery

St John's School, Roma

Volunteer support

Darryl Betzien

St Patrick's Primary School, Mitchell

Leah Maree Moore

St Stephen's School, Pittsworth

Carolyn Wishart  

Holy Name Primary School, Toowoomba

 

Excellence in Teaching and Learning

Early career teacher

Kirsty Cameron

Holy Name Primary School, Toowoomba

Callum Duncan  

St Monica's School, Oakey

Chloe Lobegeier

Mater Dei Primary School, Toowoomba

Primary expert teacher

Joanne Cavanagh  

Mater Dei Primary School, Toowoomba

Michelle Chinnery

St John's School, Roma

Sandra Gleeson

Our Lady of the Southern Cross College, Dalby

Debbie Hawkins

Holy Name Primary School, Toowoomba

Secondary expert teacher

Tamara Broughton

St Saviour's College, Toowoomba

Christopher Grierson

St Saviour's College, Toowoomba

Bronwyn Mcarthur 

Our Lady of the Southern Cross College, Dalby

Professional Learning Community (PLC)

Feed me 'Pi' PLC  

Genny McNair (St Finbarr's, Quilpie), Louise Pfingst, Emma Slatter (St Anthony's, Toowoomba), Janine Butlin, Kristy Cameron, Suellen Dennis (St Stephen's, Pittsworth), Chris Golightly, Miranda Murray, Emily McKay (Our Lady of Lourdes, Toowoomba)

Mater Dei Visible Learner Team

Angela Martlew, Kellie Pritchard, Nicola Crank, Danielle King, Chloe Lobegeier, Joanne Cavanagh, Amanda Holzheimer

 

Excellence in Leadership

School leadership

Sharon Collins

St Saviour's College, Toowoomba

Pollyanna Crawford and Cara Craig

Sacred Heart Parish School, Cunnamulla

Donaugh Shirley 

St John's School, Roma

Jennifer Smeed

St Saviour's College, Toowoomba

Middle leadership

Samuel Hannant

St Saviour's Primary School

Melissa Irwin

Our Lady of the Southern Cross College, Dalby

Katie Shellshear

St John's School, Roma

Emerging leader

Rachel Coggan

Holy Name Primary School, Toowoomba

Piers Dudin

Assumption College, Warwick