Media releases
TOOWOOMBA CATHOLIC EDUCATORS DELIVER KEYNOTE AND WORKSHOPS AT THE FESTIVAL OF LEARNING IN PORT MORESBY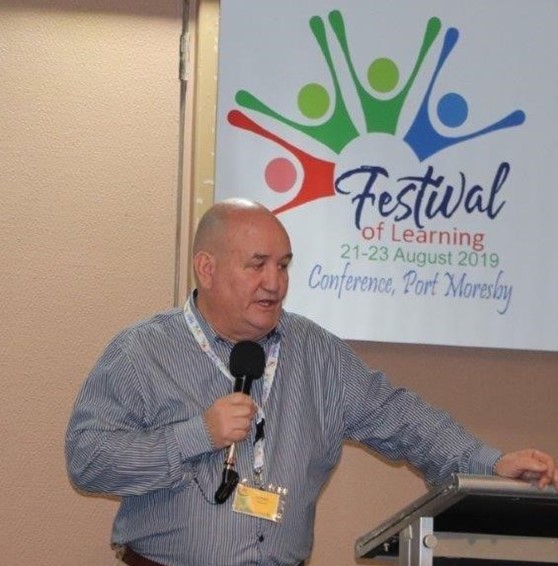 Two staff members from Toowoomba Catholic Schools featured amongst the list of presenters. Jim Midgley, Director: Teaching and Learning, delivered a keynote address entitled 'The role of leadership in school improvement' and workshop presentations on 'The role of the teacher in advancing student academic achievement-a few of the things that really matter'.
Jim's 30 years of educational experience includes a principalship at an international school in Port Moresby.  In his current position at Toowoomba Catholic Schools, he has led an improvement agenda across 31 schools that is attracting national attention due to the rate of improvement in focus areas. He believes that schools cannot improve beyond the capacity of their teachers. 
'It is great to be back here for this event. Despite the country's reputation, there is an energy and a sense of happiness here that is hard to explain …or to justify. There is significant poverty however the students are so positive and appreciative.  In a country where quality education is only for those who can afford it, these students love and appreciate every opportunity they are given,' Jim said.
The second staff member to present at the Conference is Michael Thomason, Education Officer: Guidance Counsellor Coordinator and School Support.  Michael presented two workshops, 'Fostering student wellbeing for learning: classroom strategies that work' and 'Establishing a whole-school approach to student wellbeing'. 
In his current role Michael coordinates a team of School Guidance Counsellors to provide counselling and wellbeing services to staff and students across 31 schools. This team delivers over 13 courses in Standard and Youth Mental Health First Aid. Michael initially trained as a secondary teacher before moving into the areas of counselling, wellbeing and behaviour management. It was in this role working with suspended and excluded students that he developed a keen interest in mental health, staff and student wellbeing.
After three days of keynote addresses and workshops this year's Festival was rated by delegates as a great success.