Media releases
The opportunities are endless for graduate teachers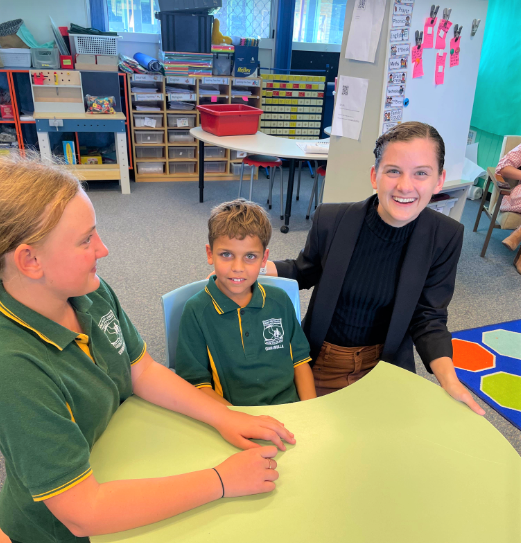 Moving to a remote town was not at the top of Abby Davidson's list when she was graduating as a teacher, however little did she know, it would be the best start to her career.
Abby started teaching at Sacred Heart Primary School, Cunnamulla in 2022 and joining her in Cunnamulla was her fiancé who began his policing career in the town.
Although moving several hundred kilometres west of their family and friends in Toowoomba seemed daunting at the time, they both could not be happier with their decision.
"I think back to the beginning of my journey and how nervous I was to make the move, and now it makes me laugh because I honestly couldn't imagine working in any other school," said Abby.
Being an early career teacher in a small community is one of the most rewarding aspects Abby has experienced so far.
"Having a small class is one of the biggest advantages in your early career, you can really see the direct impact you are making on the children and it motivates you to be a better teacher," she said. 
"Not only do you gain valuable early career experience, but you are also able to build your leadership skills."
"I get to work closely with my principal, and she allows me to help in the decision-making process and other aspects of leadership," said Abby.
"I think this will open so many doors for me in the future."
"There are many programs that I get to be part of, like Inspire Maths, and as we are a small school the professional development opportunities are shared evenly so I have a lot of that experience under my belt," she said.
Abby said working in Cunnamulla is very special and the community and lifestyle has really motivated her.
"You really feel welcome in a small town and the people in Cunnamulla are just lovely," said Abby.
"The lifestyle is honestly full of adventure, I have started motorbike riding and other outdoor activities."
"I don't think I would have ever opened myself up to these experiences before moving here, I really believe it's transforming me into a better person," she said.
Starting her career in a rural and remote town has really shaped Abby's personal and professional life, she would recommend it to every early career teacher. 
If you are interested in starting your career at one of our 31 schools, please express your interest here.
To find out more about other job opportunities visit: Jobs available | Work and learn with us | Diocese of Toowoomba Catholic Schools (twb.catholic.edu.au)