Media releases
TCS has been acknowledged for achievements in developing mental health first aid skills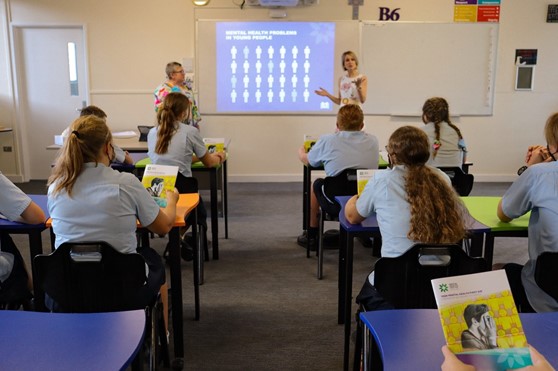 Mental Health First Aid Australia have acknowledged Toowoomba Catholic Schools for their significant achievements in developing mental health first aid skills in their people and embedding a sustainable and effective mental health program.
Toowoomba Catholic Schools is the first education system in Australia with Gold status - a testament to their commitment to staff and student wellbeing.
Across the Diocese, a well established wellbeing champion network operates. Their focus is on grassroots activities in schools to improve the wellbeing of all staff. Activities include everything from social events to guest speakers, connecting with their community and ensuring that all of their actions are planned based on the mapping of school staff needs.
Underpinning this great work, is the Mental Health First Aid program.
All schools have staff trained, with over 450 since 2018 completing an accredited standard or youth Mental Health First Aid course.
Schools such as St Mary's College, St Saviour's College and St Joseph's College in Toowoomba have implemented the Teen Mental Health First Aid program with secondary students. This has enabled a greater number of young people to gain important skills to support themselves and friends, when and if needed.
Given the diversity of student needs across the Diocese, schools develop and deliver a broad range of social and emotional learning programs and activities, with a focus on developing in students the skills to manage self and relationships positively.
All of this brings to life Toowoomba Catholic Schools purpose - enabling full and flourishing lives.
"The MHFA program is a critical component of Toowoomba Catholic Schools (TCS) approach to Mental Health. This early intervention program empowers staff with the skills to appropriately and confidently support people developing or experiencing mental health problems. The content of the MHFA program is practical, relevant and structured to provide clear and easy to follow guidelines for action. The program is presented in an engaging and interesting way and specifically tailored to the context of the audience. I highly recommend this program and encourage all staff to sign-up and become a MHFAider." Dr Pat Coughlan, Executive Director: Catholic Schools
Fast Facts:
Focus is building all staff and leader mental health literacy and capacity to support colleagues, students and the broader community if or when needed.
Topics covered: depression, anxiety, psychosis, substance use and eating disorders.
Crisis situations covered: Suicidal thoughts/behaviours, self-injury, panic attacks, traumatic events, severe alcohol and drug use, severe psychotic states and aggressive behaviours.
Two main programs delivered for staff in a range of formats:

Standard MHFA - Adults helping Adults
Youth MHFA - Adults support 12 -25 year olds

Free and open to all employees.
4 million people trained globally, 950,000+ in Australia.
Adopted in 25+ countries.
4500+ courses in Australia each year.