Media releases
STUDENTS FROM ST MONICA'S SCHOOL, OAKEY KEEN NETBALL FANS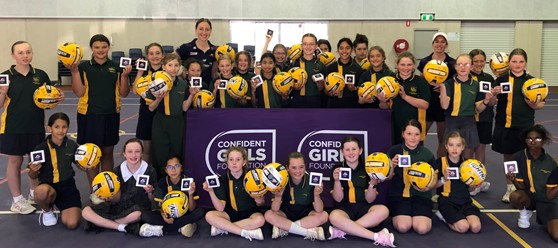 Until a few weeks ago students from St Monica's School, Oakey had never player netball and had a limited understanding of the game. 
Towards the end of Term 3 one of the teachers, Mrs Kaylene Bruggemann started training the Year 5 and 6 girls in preparation for the Catholic Carnival. They were very enthusiastic, attending after school training, and showed much improvement leading into the carnival, where they enjoyed a successful day.
Wanting to reward the students for the enthusiasm they showed, Mrs Bruggemann contacted the Sunshine Coast Lightning team telling them the story and asking if they would be able to send the teams some stickers or posters.
The Community and Team Engagement Manager was more than happy to oblige. She was so taken by the girls' story that she accessed funds from their Confident Girls Program to arrange a visit to
St Monica's from some of the players, a netball clinic and a Q and A session!
This was all arranged without the girls' knowledge, so they were treated to a huge surprise when Ashlee Unie and former Australian Diamonds player Laura Scherian visited the school on Thursday, 16 September. All the girls had a fabulous day, learning new skills and finding out about life as a professional netballer. They were thrilled to all receive their own netball, autographed by the Sunshine Coast Lightning team and a set of player cards.
St Monica's School is incredibly grateful for this fabulous opportunity provided to their students, who are now all mad keen Lightning fans.