Media releases
Students engage in intensive exam preparation during school holidays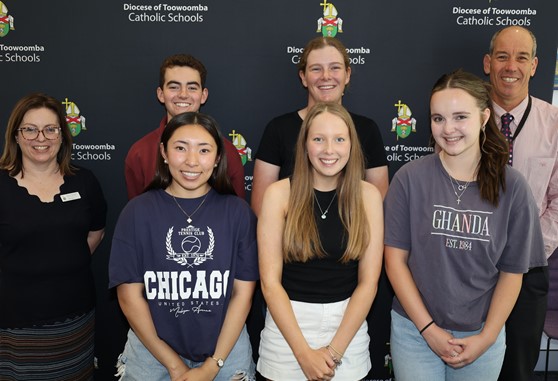 Students from across Toowoomba Catholic Schools have gathered in Toowoomba to prepare for their upcoming external assessments during their school holidays.  
Over 120 dedicated students from Toowoomba, Stanthorpe, Warwick, Dalby and Roma are participating in the External Examination Preparation Program (EEPP).
EEPP, run by the Toowoomba Catholic Schools Office, aims to give students the edge in their preparation for the external exams which begin in October.
Under the guidance of expert teachers, the students are engaging in a six-day program covering ten subjects: English, General Mathematics, Mathematics Methods, Specialist Mathematics, Biology, Chemistry, Physics, Study of Religion, Legal Studies and Modern History.
EEPP Coordinator, Mr Paul Herbert said, "We have brought together a team of expert teachers from our Catholic schools to provide comprehensive support to the students across ten subjects."
"As a diocese, we are committed to excellence in student achievement, and this program is a testament to this commitment."
Throughout the program, the teachers serve as mentors, leading sessions on specific subject exams and guiding students in planning and writing responses to practice questions.
They offer valuable insights on what examiners look for, breaking down the requirements of answers and providing clear guidance.
Additionally, students participate in mock exams and receive written and verbal feedback to enhance their knowledge and skills.
Students like Charlotte Dobson, a Year 12 student from Mary Mackillop Catholic College, expressed their gratitude for the program's role in helping them succeed.
Miss Dobson, aspiring to study dentistry at James Cook University, stated, "I love the program, and it has motivated me to study and learn more."
Sean Dawes, a student from St John's School in Roma, hopes that the program's intensive preparation will support his ambition to become a pilot in the Australian Defence Force.
He shared, "This program has given me a different perspective on subjects and I feel more confident going into my final exams."
Catherine Cooper, a teacher from St John's School, highlighted the pride she feels as a mentor in the program.
"As teachers, we are dedicated to helping every student achieve their potential, and the EEPP program provides a fantastic opportunity for students to build confidence, collaborate, and strive to achieve their best."
"It is a privilege to be working with other incredible teachers to assist students from across the diocese in preparing for these exams," said Ms Cooper.
Acting Executive Director: Catholic Schools, Julie Payne, acknowledged the program's significance in helping students achieve their best results.
"The program offers our Year 12 students a chance to refine their considerable skills and talents in preparation for external assessments."
"Some of our best teachers have made themselves available for the week of intensive preparation with students," said Mrs Payne.
"We wish all of our students the best of luck in their upcoming exams!"