Media releases
Staff come together to discuss the role of Catholic education in student's life journey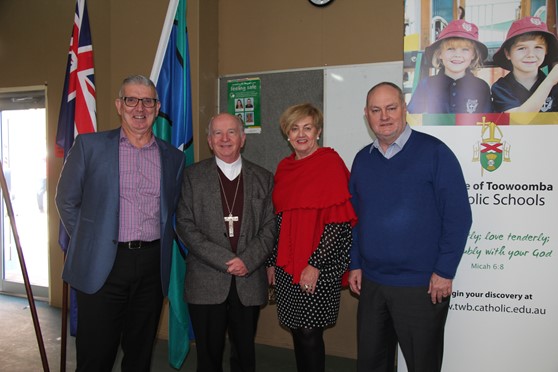 Each year, during Catholic Education Week, staff from across the Diocese of Toowoomba come together for Bishop's Inservice Days. This year, these days were held in Cunnamulla, Roma and Toowoomba.
With the theme of this year's Catholic Education Week being, Sharing the Journey, the Executive Director: Catholic Schools, Dr Pat Coughlan and key note speaker Mr David Hutton, OAM spoke about the past, present and future for Catholic educators.
"As educators in Catholic schools we are privileged to work in such an important ministry that aligns our beliefs and values with our work, it is more a vocation, a calling," said Mr David Hutton.
"We need to stay focussed on our mission. To invite our young people to a life of faith and engagement with the Church in an increasingly secular society, deliver quality teaching and learning and keep our holistic approach to education, that is, we are working to enable students to have a good life and contribute well to our community."
Executive Director: Catholic Schools, Dr Pat Coughlan reinforced this message saying, "Education is the most powerful strategy in enabling a better and more just world."
He invited all school staff to engage with students in all aspects of learning and celebrate success. "We all have a sense of achievement and satisfaction when prayer and liturgy, academic, cultural and sporting achievements are regularly and meaningfully celebrated."
When discussing the changing world in which we live and the speed with which these changes are taking place, Mr Hutton said, "Hope is the virtue by which we take responsibility for the future, not simply our own individual future, but the future of the world. We find hope not just by thinking about the future, but by prayer and action."
Dr Coughlan said, "Our pursuit to enable academic success for all and make Jesus known requires us to continually renew and reinterpret the ways in which we share, discuss and link our story to the lives of each generation. What made sense to us in the 1970s is very different to what makes sense to a 21st century child. Our beliefs are the same, what is different is how we make Jesus message come alive in examples of the actions of people today and how we prepare students for the lives, work and community involvement they will experience in the future."
Catholic schools in the Diocese of Toowoomba educate over 9,000 students and employ over 1,300 staff.