Media releases
St Ursula's student in the running for major award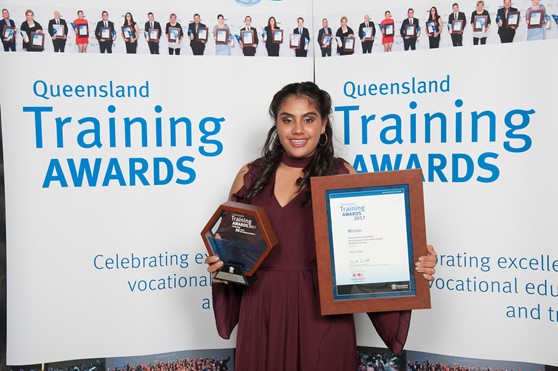 Toowoomba school-based Trainee Chloe Appo has won the Aboriginal and Torres Strait Islander Student of the Year Award at the South West Darling Downs Regional Final of the Queensland Training Awards.
Chloe is now in the running to win the State title announced in Brisbane in September.
Currently in Year 12 at St Ursula's College Toowoomba, Chloe, has a dream to one-day work in the justice and legal sector and is currently studying a Certificate III in Business.
Downs Industry Schools Co-Op Inc. (DISCO) has hosted Chloe one day a week as a school-based trainee through MIGAS Apprentices and Trainees since last October.
"I have always had a passion for business and wanted to start early by doing a school-based traineeship so I can get on-the-job skills and experience," Chloe said.
School-based traineeships involved a multitude of people and various organisations working together to achieve success for the student.
For Chloe that includes MIGAS as her employer who specialise in managing and mentoring apprentices and trainees, the host employer (DISCO) who provide her with the on-the-job work, the training organisation delivering the formal study, the school and most importantly the support of Chloe's parents and extended family.
Without all these people working together it's often hard for a student to achieve success.
MIGAS recognised her hard work and tenacity early and, along with her host employer DISCO, suggested she be nominated for the Aboriginal and Torres Strait Islander Student of the Year Award.
"I want to be a role model for other Indigenous people and encourage them to study and work in the business sector," Chloe said.
Being a role model to her peers and community is something very important to Chloe, she is an ATSI (Aboriginal and Torres Strait Islander) role model at St Ursula College and an avid sportswoman, representing the school in touch football.
Principal at St Ursula Ann Marie Pawsey was honoured to have a student recognised.
"Chloe's drive and passion is contagious. She is an inspiration to her peers and a superstar in the making," Ms Pawsey said.
"The future of our community is in the hands of these young people, we have a responsibility to ensure they have everything they need to keep it going, to train them and develop them."
Managing Director of MIGAS Rod Margetts was absolutely thrilled with the result.
"Congratulations should be extended to everyone involved in Chloe's traineeship. This is a team effort," he said.
"We'll be right-behind her not just as she progresses through the award stages but most importantly throughout her traineeship."
If Chloe wins her category in the state finals she will represent Queensland in the Australian Training Awards later this year.