Media releases
ST SAVIOUR'S PRIMARY SCHOOL, TOOWOOMBA – A RICH HISTORY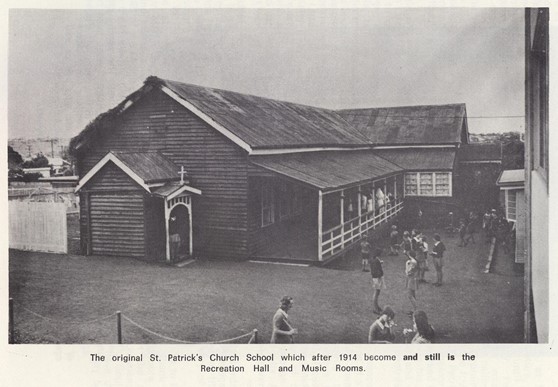 In 2020 we celebrate 175 years of Catholic Education in Queensland. Our first Catholic School opened in Brisbane, from an old government store in Elizabeth Street that the Myer Centre now occupies.
St Saviour's Primary School is the oldest Catholic school in Toowoomba and in the Toowoomba Diocese.  Originally call St Patrick's Church School, it was a combined church and school located on the corner of James and Neil Streets and opened in 1863. The school was staffed by lay teachers until Bishop Quinn of Brisbane made the decision to send the Sisters of Mercy to teach in the school in 1873. Father Dunne, the parish priest of St Patrick's was not pleased with this decision and Miss Kate Reardon remained in charge of the school for some time.
The church school was extended in 1880 and destroyed by fire soon after the renovations were completed.  Planning began again and the third St Patrick's Church was opened in March 1889 by Bishop Dunne.  In 1899 the school was moved to its present site to make way for the new church (the Cathedral) and a new school building was erected in 1914. A secondary school was also established up to Year 10 and known as St Patrick's Roman Catholic High School.
The high school was extended to Year 12 in 1931. In 1938 Bishop Roper renamed the school St Saviour's School, taking the name of the convent where the Sisters of Mercy lived. The primary and secondary schools were separated at this time.
In 1974 the St Saviour's Preschool was opened and in 1976 the present school building was built.  In 1985 the school was extended to include a library, multi-purpose room and administration area. In 2002, an Early Education Unit consisting of two Prep classrooms was opened to extend facilities.
In 1994, Mr Peter Lynam replaced Sr Sue O'Neill as the first lay principal since 1874.  The Mercy sisters continued to have a presence in the school until 2000.  The current principal is Ms Madonna Sleba.
History Timeline
1863    St Patrick's Church and School opened
1869    Reopened as St Patrick's School, 47 students with Miss Katherine Brady, Headmistress
1870    Katherine Brady resigns and is replaced by Miss Kate Reordan-170 students
1873    Sisters of Mercy arrive. Kate Reordan enters convent in Brisbane (All Hallows)
1874    Sr Mary Rose appointed as Headmistress
1880    School burnt down. New St Patrick's School built in the grounds facing Lawrence St.
1914    Secondary School established – St Patrick's Roman Catholic High School
1938    School name changed to St Saviour's – separation of primary and secondary schools
1976    Records show that the school is now called St Saviour's Primary School
2012    St Saviour's Primary School – Prep to Year 7 – Coeducational
2013    150th Year Celebrations
2014    Last year of Year 7 in Primary School
2015    Prep – Year 6 Coeducational
More information about 175 Years of Catholic Education in Queensland: https://celebrate.qcec.catholic.edu.au/