Media releases
ST MARY'S SCHOOL, WARWICK CELEBRATES OPENING AND BLESSING OF SACRED SPACE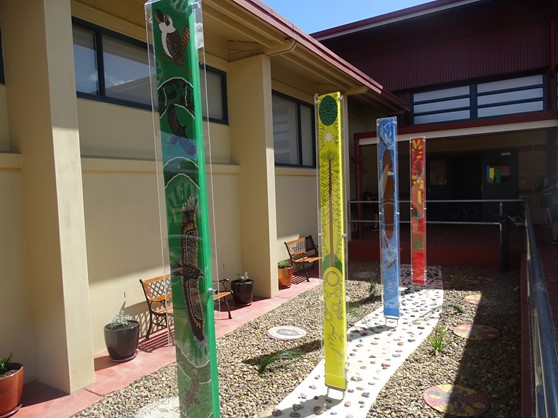 On Friday, 13 March a new Sacred Space was opened and blessed by Parish Priest, Fr Franco.
This unique Sacred Space created on the upper campus of St Mary's School, Warwick is an area for students to sit and read, talk to friends, take time out or just enjoy the surroundings of this meaningful area.
The Sacred Space was created by three significant contributions. Aboriginal artist, Pete Mulcahy painted four story poles about the Warwick area.  Pete worked with parents and students from St Mary's School to make these stories.  The four story poles represent:
the bird's song which sings out and visualises the most ancient of song lines (green pole)
acknowledgement and celebration of Warwick's connection to the world's ancient gathering, the Bunya Festival (yellow pole)
the Condamine River, which gave life to the region, the scene depicts hunters, and shown at the centre is a representation of the ancient scare tree dotted along the bank of the Condamine (blue pole)
the plant world of Australia, the bottlebrush, native gum, flowering wattle, eucalypt leaves and blade grass (red pole). This was the domain of women, these and thousands of other plants were prepared as medicines, food, poisons and as fibres in handcrafted creations. This pole celebrates the feminine in people and nature.
Another aspect of the Sacred Space are eleven intricate mosaics that were created by local artists Nathan Charles, Dylan Charles and Brenda Parsons. The mosaics depict aspects of Aboriginal life before and after colonisation by Europeans.
Finally, there is also a contribution to the space by many St Mary's students. Those who were present last year for NAIDOC celebrations painted a river rock and these make up the rocks in the river in the Sacred Space. 
Special guests in attendance included Mrs Delphine Charles, mother to Nathan and Aunt to Dylan, the mosaic artists and Mrs Brenda Parsons, local aboriginal artist who was a mosaic artist.
St Mary's School thanks Toowoomba Catholic Schools Office, St Mary's P&F, Dayne Barrett from Green Homes and Bunnings for their various contributions to making this project possible.