Media releases
ST MARY'S COLLEGE, TOOWOOMBA FILLS OVER 400 BACKPACKS FOR THE BACKPACK PROJECT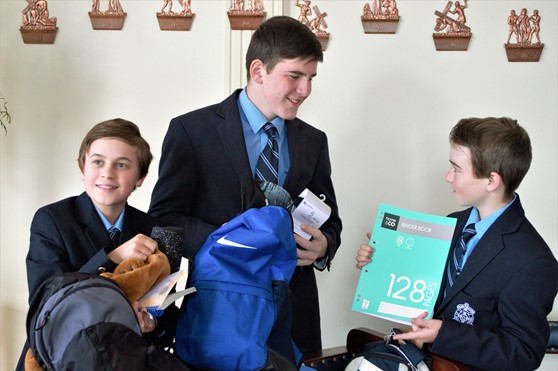 St Mary's College Toowoomba' students have shown their generosity, and want to help others, collecting items that may seem like basic items to many of us, from pencils, to notepads, clothing, towels, toothpaste and soap, all to help others in need.  It's all a part of The Backpack Project, an initiative of Mary's Meals.
Mary's Meals provides life-changing meals to some of the world's poorest children every school day.
They are a no-frills charity with a simple idea that works: by providing one good meal in a place of learning, children are drawn into the classroom where they can receive an education that could one day free them from poverty.  Mary's Meals is named after Mary, the mother of Jesus, who brought up her own child in poverty. They consist of, respect and reach out to people of all faiths and of none.
 St Mary's College students are the first in Australia to launch a backpack collection. Each week throughout term, students, staff and families were encouraged to bring in items to fill backpacks with. The bags will be sent off to some of the countries where Mary's Meals provides support: Malawi, Haiti, Ecuador, South Sudan, Uganda, Zambia, Ethiopia, Syria and India.   
 Thanks to generous donations from the St Mary's College community, students have been able to pack around 400 backpacks to support the everyday lives and education of some of the world's poorest countries.