Media releases
ST MARY'S COLLEGE FAREWELLS PRINCIPAL AFTER 10 YEARS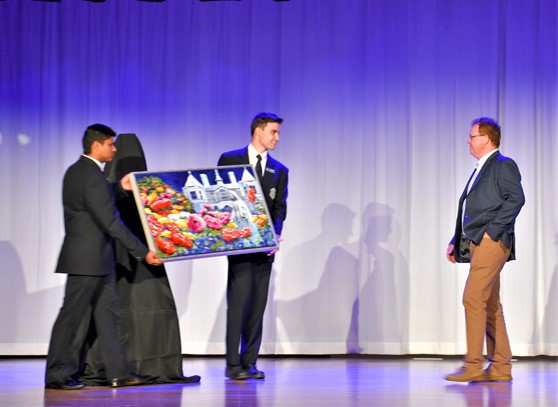 Last Friday afternoon St Mary's College held a surprise farewell event for Michael Newman, the College principal for the past 10 years. Guests including St Mary's College staff, the Toowoomba Catholic Schools Office executive leadership team, principals from other schools, the College Board, the P&F Committee and Old Boys gathered in the recently completed Edmund Rice Cultural Centre.
Several staff members at the College wished Michael farewell and these messages were compiled into a video. The video also included memories of the past 10 years. Wonderful speeches were also heard from Dr Pat Coughlan (Executive Director: Toowoomba Catholic Schools), Matt Boyd (College Board), Katrina Thom (P&F Committee), Samantha Parle (St Mary's College) and Alastair Doljanin and Dhairy Shah (College Captains).
The College captains presented Michael with a painting of the College that included the Brothers' House which was the first building built at the College in 1899, a statue of the Virgin Mary and flowers, signifying liveliness. The evening concluded with a blessing from Bishop Robert McGuckin.
Michael has enjoyed a long and distinguished career in Catholic education having commenced teaching in New South Wales before spending time in leadership positions in Queensland. Michael is recognised for his outstanding contribution as an educational leader and has made a significant contribution to educational leadership and staff development.
"Michael is taking leave next term before moving to Brisbane with his family to take up a new position as Headmaster of Marist College, Ashgrove from 2021. After 17 years in the Diocese, including 7 as principal of St John's College, Roma, Michael leaves a reputation as an outstanding leader and educator. His sphere of influence extends well beyond his local community to colleagues within the system and across the State. Michael, his wife Lauren and their three children have been wonderful ambassadors for Catholic education and faith leaders within the diocese. We will miss them very much and wish them well in the next chapter about to unfold," said Dr Pat Coughlan.