Media releases
Spirited Careers: New Principal is excited about coming home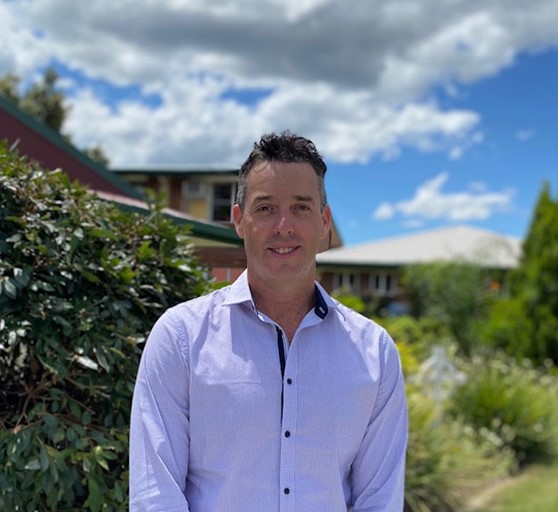 Familiar beginnings for Duane Wann as he continues his rewarding career back where it all started, in Toowoomba.
Duane is the new Principal at St Thomas More's Primary School from 2023.
Although he was not born in the town, Duane spent a large part of his childhood in Toowoomba, and it is the place he likes to call home.  
"I went to St Mary's College, attended university in Toowoomba and started my teaching career in the Toowoomba Diocese at St Patrick's School in Mitchell," said Duane.
After continuing his professional journey in other regional and metropolitan Dioceses around Queensland, he said the move back to Toowoomba has been great for his entire family.
"It's just amazing returning home to Toowoomba, to be closer to family and friends."
"Toowoomba also presents a range of sporting and creative opportunities for my children to become immersed in," he said.
Not only is Duane excited about the opportunities Toowoomba has to offer he is looking forward to joining the St Thomas More's Primary School community.  
"The school itself has had such a wonderful reputation and great standing in Toowoomba built over the past 60 years."
"Being able to work collaboratively, build connections with staff, the parents, the parish, and the children is the most exciting part for me professionally and personally," said Duane.
With his diverse experience, Duane is keen to introduce a positive and enthusiastic approach to his principalship.
"Together with our driven and passionate leadership team, we will endeavour to promote a collaborative and collegial culture in order to enhance collective efficacy, capacity and empower our staff and children."
"Hopefully we can achieve this through building professional and personal connections with all staff, empowering stakeholders to engage in rich, relevant and purposeful dialogue and discussion leading to decisions that are in the best interests of young people at St Thomas More's."
Duane's passion for teaching has always been inspired by the children and his holistic outlook on students thriving through education.
"I've always had an interest in teaching children, in particular, being witness to the personal, spiritual, social and physical growth of every individual," he said.
"To me, children are, and should always be at the heart of all that we do."
"Great teachers make a significant difference!" Duane explained.
In his new role as Principal, he is interested in mentoring early career teachers to enhance their vocation and their capacity not only as professionals but also as individuals as well as working with the experienced teachers at the school.
Together with his family, Duane is excited to continue his journey back in Toowoomba and immerse himself in everything the region has to offer.
If you are considering a move to Toowoomba or one of our regional towns, we encourage you to consider joining Toowoomba Catholic Schools as well. To find out about the job opportunities visit: Jobs available | Work and learn with us | Diocese of Toowoomba Catholic Schools (twb.catholic.edu.au)