Media releases
Spirited Careers: Michael loves living in this region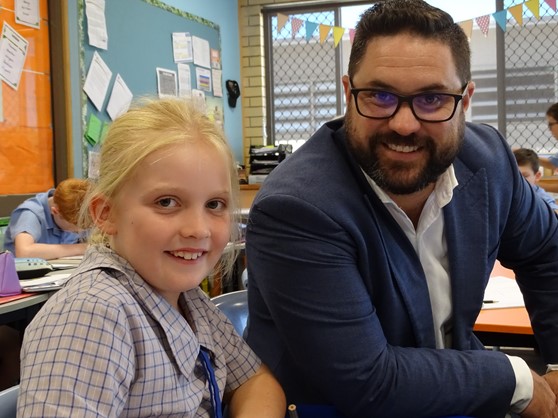 With over 1,700 employees in schools and colleges that spread from Quilpie in the West, to Stanthorpe in the South, north to Roma and east to Toowoomba – there are a wealth of career options and opportunities for educators, specialists and support staff.
In addition to schools, the Toowoomba Catholic Schools Office offers those with experience and expertise in education, information services, finance, facilities, human resources and administration with the chance to lead, service and support staff and students across the Diocese.
Couple this with a lifestyle that is enriched by welcoming communities, outstanding natural beauty, a thriving gourmet food and dining culture, and endless sporting and cultural options – you can see why this region is thriving and has so many people choosing to make the move.
Michael Ball joined the Toowoomba Catholic Schools community earlier this year as the Principal of Mater Dei Primary School in Toowoomba, and he shares why he loves living in this region and is loving his role.
Michael joined the Toowoomba Diocese after 20 years of teaching and leadership positions in the Brisbane and Armidale Dioceses. Most recently he was the Principal at St Patrick's School, Walcha and St Francis Xavier's, Narrabri. 
For Michael, an experienced principal and father of two, the move to Toowoomba was one that enabled him to align both his professional goals and wish to be closer to family. 
"With two small boys, my wife and I wanted to make a move to a place that would enable us to access the services we need, a place that was family oriented with lots for our boys to do, and that was within travelling distance of Brisbane to visit grandparents," said Michael.
"I was also keen to find a place where my career would continue to be nurtured and I would have the same connected and personalised access to other principals and leaders experienced in the Armidale Diocese. After talking with Toowoomba locals, I was sure this was the city for us."
Michael and his family are discovering what it is to be a Toowoomba local themselves and have been impressed by the big country town feel, with great personalised service and access to everything that you can get in the big city.
"When we have visited the shops and cafes across the town we have been really impressed by the friendly and open welcome you get. People want to have a chat and give you the best of service; it is so impressive."
"And from a work point of view, Toowoomba Catholic Schools and Mater Dei have delivered already in spades what I had heard about and was looking for when making this move. I have had such a warm welcome, the professionalism and dedication of staff at the office and at Mater Dei is exceptional. There is a tangible focus on people – and this aligns with what I think is important. The students and parents too have a real team approach to education; this strength of community is wonderful to be a part of," explained Michael.

As Principal, Michael has continued the very strong teaching and learning culture and quality outcomes which are a feature of Mater Dei.
"I base my leadership on 'faith by example', a relentless focus on quality teaching and leaning, and always having the students at the forefront of our strategic direction," said Michael.
If you are considering a move to Toowoomba or one of our regional towns, we encourage you to consider joining Toowoomba Catholic Schools as well. To find out about the job opportunities visit: Jobs available | Work and learn with us | Diocese of Toowoomba Catholic Schools (twb.catholic.edu.au)