Media releases
Spirited Careers: Georgie has found her forever employer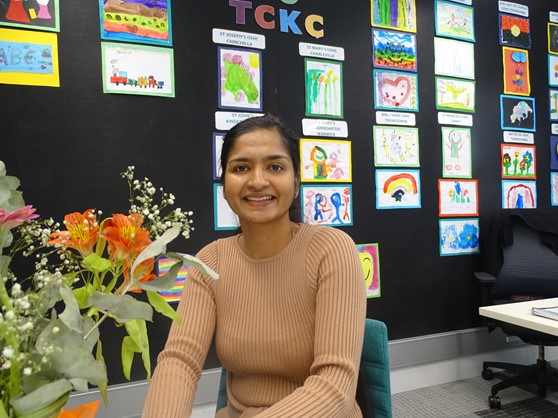 Coming to work each day to a place where Georgie's calling to help others comes together with support to grow her own career is why she thinks of Toowoomba Catholic Schools as her forever employer. 
"My career journey started with a move from Sri Lanka by my parents when my father came to study for his Masters at USQ. I always intended to move back to Sri Lanka, after studying for my Bachelor of Information Technology." 
Georgie met her husband whilst completing her degree, and decided to stay in Australia. 
"I was looking for a job and started working in an administration position in a child care centre.  It was here that I was first able to see how my work was making such a positive difference to families and children.  I loved to see the children's energy and growth whilst they were with us, and the families appreciation for what I did was lovely to experience." 
This inspired Georgie to stay on the path of working in the education sector, and when a role with Toowoomba Catholic Kindergartens and Care (TCKC) arose she was hopeful that this would be her next career step. 
"I got the call on Christmas Eve to offer me the position.  It was the best Christmas present ever," said Georgie. 
"My work has enabled me to grow my knowledge of early childhood education in a very practical way – both the 'why' and the 'how' high quality opportunities for children and staff are created.  This inspired me to start my Master of Education (Early Childhood)." 
Georgie explained that her Managers' support and interest in her studies and success are something that makes working at TCKC like a second family. 
"Being able to work flexibly, knowing that I am making a difference through my work as part of a great team, and that there are options for me to follow a number of career pathways with TCKC and Toowoomba Catholic Schools once I graduate are some of the things I love most about working with TCS. It offers so many options, great working conditions and you are known and valued."   
If you are considering a move to Toowoomba or one of our regional towns, we encourage you to consider joining Toowoomba Catholic Schools as well.