Media releases
Spirit of Catholic Education award winner goes viral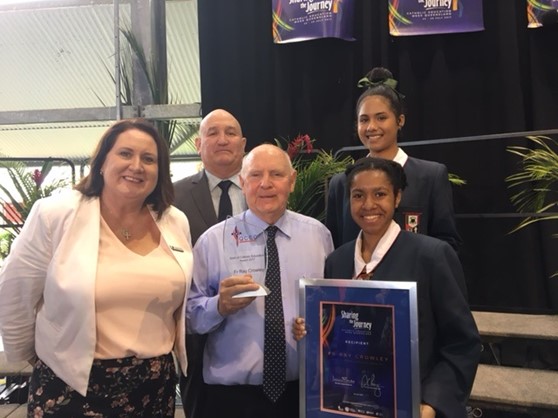 Fr Ray Crowley is this year's Spirit of Catholic Education Award recipient. When his win was posted on the Catholic Education Week Facebook page, he had nearly 6000 hits in the first few hours. Not surprising, given the many current and past students and staff that have had their lives positively influenced by Fr Ray's care, compassion and friendship.
Fr Ray has served as College Chaplain to St Saviour's, St Mary's and St Joseph's Colleges for some four decades in Toowoomba. During this time, he has cultivated strong and trusted relationships that have led to many former students calling Ray 'friend' and continuing to call on him at pivotal times in their lives, whether it be births and marriages, or at times of tragedy or grief.
Sharon Collins, Acting Principal at St Saviour's College, who nominated Fr Ray for this award said, "For many at our schools, Fr Ray is the 'face of God', particularly for those who do not have a direct link nor experience of 'Church'. His personable nature and practical way of seeing the world captivates the most unlikely and sceptical."
For staff, Ray is a friend and confidant. He is trusted and trusting, has a strong sensitivity to those who are suffering, and will go above and beyond to ensure they know they are supported.
In the wider community, Ray's commitment to grief counselling has seen him touch the lives of many and bring comfort when it is most needed.
"Fr Ray's integrity and compassion and his willingness to give of his time and to walk with people where they are at is unparalleled. When people are in the murkiness of uncertainty, he points them in the direction of faith and love. His legacy will live on in our school communities for years to come," said Ms Collins.
The Spirit of Catholic Education Awards are in their 11th year and acknowledge the outstanding contribution individuals make to schools and their communities.