Media releases
School-based traineeships celebrated during National Skills Week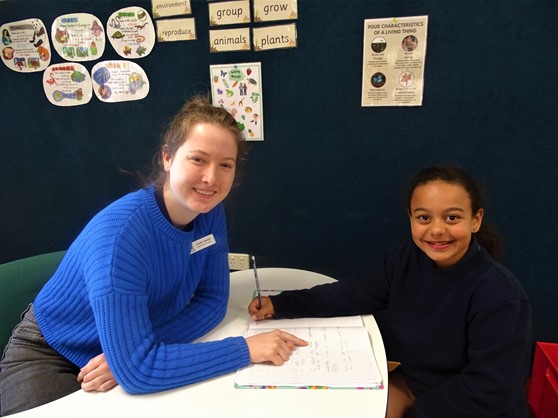 For over a decade, Toowoomba Catholic Schools Office (TCSO) has been supporting school-based traineeships as part of its program to recruit and retain staff.
During National Skills Week, and with teacher shortages in the spotlight, it is exciting that Year 12 student, Cassie Lawson, is following her dreams of becoming a teacher.
Cassie is finishing her final year at Mary MacKillop Catholic College and also undertaking a school-based traineeship employed by TCSO based at Our Lady of Lourdes Primary School in Toowoomba, working with Year 3 students as a School Officer.
Cassie knows from this experience that teaching is exactly where she wants to be.
"One of the things I love about working at the school is assisting children learn a new concept and helping them overcome any comprehension issues by working through the concept together," Cassie said.
"Celebrating these learning wins is very important, and I love helping to build the self-confidence of the students."
Undertaking her Certificate III in Education Support as part of her senior secondary study has been invaluable in developing Cassie's future career pathway.
"I now know that teaching is the career for me, and I have applied to study a Bachelor of Secondary Education so I can inspire the students of the future," she said.
Cassie has been able to balance the work commitments, school study and training obligations that come with undertaking a school-based traineeship with careful planning and scheduling and with support of those around her.
"The teachers at both Mary MacKillop and Our Lady of Lourdes have been very supportive – helping me to keep up with everything and catch up if required."
"I also receive support from Toowoomba Catholic Schools: School-Based Apprenticeships (SBA) program team as they check in on me, guide me and keep me tracking along," Cassie said.
Karen Coulston, Manager of the SBA program said, "we currently average around 350 students from our schools every year undertaking a school-based apprenticeship or traineeship across a wide range of industries throughout the Darling Downs and South West region."
"This mentoring of our young people as they work towards their career goals with a realistic exposure to work is invaluable and assists in building workforces through 'on the job' learning and skills," said Mrs Coulston.
The feedback from Cassie's supervisor at Our Lady of Lourdes, Janice Moore, shows what an asset Cassie is at the school and how valued she is as a staff member.
Ms Moore has been working with Miss Lawson over the last two years and said, "Cassie is very confident and supportive of the students in her role as a School Officer at Our Lady of Lourdes."
"She shows initiative when working in the classroom environment, noticing those who need quiet encouragement, as well doing things without being told."
"We have been extremely impressed with her maturity, her willingness to be part of a team and the thoughtful questions she has asked, to gain as much understanding as possible, about the teaching profession," said Ms Moore.
"It has been a pleasure to be part of Cassie's school-based traineeship and we wish her well in her future endeavours."
Cassie is keen to encourage other students to undertake a school-based traineeship and would recommend getting involved.
"I cannot recommend this program enough – I tell everyone about the amazing opportunities undertaking your SBA provides," Cassie said.
National Skills Week, celebrated from August 22-27, is designed to raise awareness on the diversity of careers which can be realised through vocational education and training, the skills for an economically viable future, and the incredible range of new jobs and skills in demand for the future. Find out more here: www.nationalskillsweek.com.au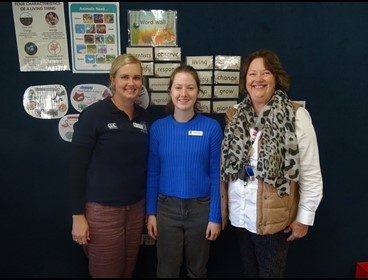 Pictured (L-R): Sarah Goldthorpe, Year 3 Teacher, Cassie Lawson and Janice Moore, APRE at Our Lady of Lourdes.