Media releases
SACRED HEART PRIMARY SCHOOL CELEBRATES 50 YEAR ANNIVERSARY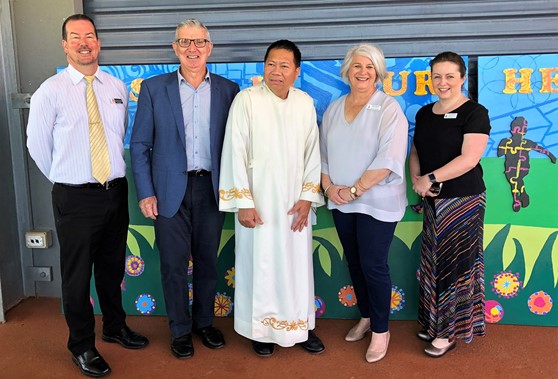 Sacred Heart Primary School, Toowoomba is 50!  The Sacred Heart Church was opened in 1964 by Bishop Brennan.  At that time, the Sacred Heart nuns were based at Freneau Park opposite Clifford Park Race Course. They had set up here at the height of the Second World War when Australia perceived a very real threat of a Japanese invasion. The sisters were planning to return to Brisbane and they gave away their wooden buildings to the various Parishes. The Sacred Heart Church was lucky to receive one of these buildings. The building was repaired and made suitable to be used for meetings and fund-raising functions. This building is now the school's current day prep building.
The idea was put forward to establish a preschool and parents with eligible children were sought and the school became a reality. The School opened its doors with 22 children on 12 February 1968. The school slowly grew and added extra classes over the following years and Sacred Heart was a full preschool to Year 7 school by 1980.  By 1993, the school had grown to an enrolment of 350 children with an additional 45 preschool students. 
Over the years, the school continued to grow and add more buildings. The present library and classroom block opened in 1977 and the current administration building was opened in 1980. The upper primary building was opened in 1986 and the school's latest building, the multi-purpose hall, was opened in 2011.  The school today has an enrolment of 220 students and the current Principal is Chris Rosentreter.
"50 years ago, the Catholic community responded to the signs of the times and set about establishing a school which would truly equip students with the necessary skills, knowledge and dispositions to become men and women of faith, substance and character.  The same hopes and expectations rest with this current generation of parents and leaders.  Many things have changed in the last 50 years but one thing has remained steadfast; the mission of the Catholic school is to make Jesus known to all students and to give priority to scholarship and learning and in doing so, form leaders in service, in imitation of Christ, men and women who by their own lives make a positive and enduring difference to the lives of others," said Dr Pat Coughlan, Executive Director: Catholic Schools, Diocese of Toowoomba.
Sacred Heart Primary School anniversary celebrations included a breakfast celebration followed by Mass for students and families on Friday October 26.  On Saturday celebrations continued with lots happening.  The day's activities began at 9:00am: unveiling of a new mural, choir performance, a scavenger hunt, jumping castle, games, a colour run, multi-draw raffle, market stalls and food vans.  The day finished with Mass at 6:00pm followed by a celebration dinner at 7:00pm in the parish hall.