Media releases
Sacred Heart Kids THINK PINK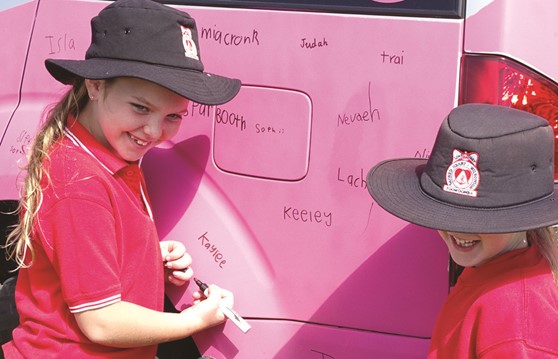 Attention: News Editors
What: Media and photo opportunity
Where: Onsite: Sacred Heart Primary School, 263 Tor Street, Toowoomba
When: Tuesday, 11 October 2016
Time: Sacred Heart Primary School - Media Event and Photo Opportunities
Sacred Heart Kids leave their mark by thinking PINK
Tomorrow, 11 October at 8:45am Sacred Heart Primary School students will get to chance to ink up a pink 4WD to raise funds for Breast Cancer Council as part of the Dirty Down Under, 4WD Club fundraising event.
"A rare opportunity has been provided to the students of Sacred Heart Primary School to be part of a unique event. Through partnerships with our parent community, our students are being allowed to participate in raising awareness for Breast Cancer. Scott & Rebecca Waters, who are parents at our school have generously turned their 4WD pink for the Dirty Down Under fundraiser, and our students get the chance to 'ink it', said Mr Chris Rosentreter, Principal of Sacred Heart Primary School.
"The kids are running a gold coin donation, and in return, they get the opportunity to write their name on our pink vehicle in readiness for the Dirty Down Under event," said: Rebecca Waters
October is National Breast Cancer Awareness month. The 4WD Club's (Dirty Down Under) annual fundraising event will see club members dress themselves and their vehicles in pink, conduct raffles and source sponsorship to raise valuable funds for the charity.
Six hundred cars will converge at Inskip Point later this week for the fundraiser.
All funds raised will go directly to the Breast Cancer Council to assist in research, and for the excellent work, they do for sufferers.
Sacred Heart School was excited to be involved with the fundraiser and the overwhelming generosity of the school community.
To arrange an interview and photographic opportunity please contact Debbie Menkins on 07 4634 3436 or email debbie.menkins@twb.catholic.edu.au
…ends…
CONTACT: Debbie Menkins | Sacred Heart Primary School | 07 4637 1408 | 0438 789 909 | debbie.menkins@twb.catholic.edu.au