Media releases
Refugee from war torn country is welcomed to St Mary's College in Toowoomba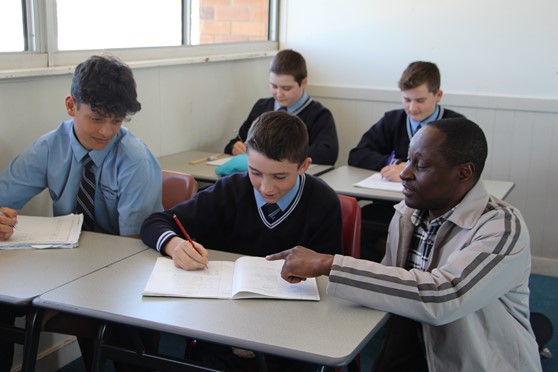 Robert Kiringa fled from his war torn home in the Democratic Republic of Congo (DRC) to come to Australia as a refugee.
With World Day of Migrants and Refugees on September 25, Mr Kiringa wanted to share his story about the struggles in his own country that led to him becoming a refugee living in Toowoomba.
"I owned a small grocery shop before I became a CCTV Operator and a Teacher Assistant at the secondary school where I accomplished my secondary education in my country," said Mr Kiringa.
In 2016, because of the continuous wars and killings that have been taking place in his country since 1996, Mr Kiringa was forced to leave his home after the death of several family members and friends and went to Malawi where he lived in a refugee camp for five years before he was resettled to Australia.
Mr Kiringa remembers that, "Whenever war broke out, people would always run to the bushes and spend a couple of days there before returning to their houses."
"This is the daily life of people living in war torn countries and life in the refugee camp is so hard that there is a limited chance of survival. The problem of COVID-19 worsened the situation until one of my friends died because of poor health conditions in the refugee camp. Sometimes, we could eat once a day and water has always been a scarce commodity there," Mr Kiringa said.
When Mr Kiringa arrived in Australia in April 2022, as it is always the case for most people arriving in a new country, fear struck him as he did not know what to expect.
Mr Kiringa said that on his first day stepping out of the house on his arrival in Toowoomba, a lady greeted him and asked him where he was from.
When he had told her of his origin she said, "You are welcome to Toowoomba."
This is the statement which started to dissolve the fear of Mr Kiringa held for his future in Australia and he began to feel a sense of belonging to the community in Toowoomba.
"Unlike people from other places that I have visited, people in Toowoomba are so friendly. There is a significant difference between Toowoomba and where I come from in terms of noise pollution, as in my country the radio music is played from sunrise to sunset every day," said Mr Kiringa.
Mr Kiringa was offered employment at St Mary's College in Toowoomba as part of the Work & Welcome program.
Work & Welcome is an employment experience program, established by Multicultural Australia, providing refugees and migrants with paid work experience.
Mr Kiringa said that St Mary's College has reawakened his thirst of working in a school environment once again.
"The boys in the primary school together with their teachers, the school principal and his deputy always make me feel welcome and those at the secondary levels bring back those good memories of the previous school where I worked in my country. When I am at St Mary's College, I always feel at home and the people there do not merely preach love to one another but live what they preach. Thanks to the exposure to the education system working at this school, I have learned that the IT (Information Technology) is an integral part of education nowadays," Mr Kiringa said.
"The Work & Welcome program is indeed the right program for people new to Australia who aspire to be part of the education system and it has paved the way for me to work in the Australian education system. I now have a picture of what can be expected of me in the future either as a school teacher or a teacher aide. Currently, I am studying at TAFE seeking a Certificate that will bridge my way into university and I plan to continue working in the education sector before I do something else in the future," said Mr Kiringa.
The Principal of St Mary's College, Brendan Stewart is very pleased to have been able to welcome Mr Kiringa to the College.
"As a Catholic school in the Edmund Rice Tradition, developing an inclusive community is something that we constantly strive for at St Mary's College. We welcomed the opportunity to employ Robert as part of our student support team at the College and he has been a tremendous asset to our boys and their learning needs," said Mr Stewart.
Manager Employment at Multicultural Australia, Carla Zafiriadis said that Multicultural Australia's Work & Welcome Program in schools supports people from refugee and asylum seeker background on their first paid work in Australia.
"The program provides an opportunity for participants to gain local experience in a supportive environment and be able to have current references to add on their resumes. Participants are able to develop the skills and confidence needed to find employment, as well as build their hope for the future and sense of belonging in a new country. In recent figures, close to 80% of participants were able to find employment since completing the program. The success of the program is only possible due to our amazing group of partner schools and we thank them for the continuous support," Ms Zafiriadis said.
Toowoomba Catholic Schools (TCS) encourage staff to donate to this program and also provide employment opportunities for refugees and migrants in schools and its office.