Media releases
PROJECT COMPASSION LAUNCH 2019 - LIVES CHANGE WHEN WE ALL GIVE 100%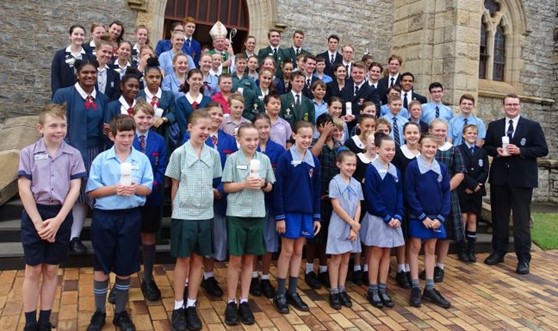 80 leaders from primary schools gathered together at St Thomas More's School for the day to "See, Judge, Act".  The day was facilitated by Catherine McAleer, the Diocesan Director of Caritas.
"We have been working with Caritas about social justice, other countries don't have the same equality that we do we also learned about a village girl in Tanzania and how difficult it was to live in her time and country," said Jarrah from Mary MacKillop Catholic College, Highfields.
Annabelle from Mary MacKillop Catholic College, Highfields said, "We have been learning about the privileges we have that other countries don't, I have also learned the meaning of lent-this year I am going to use less water during lent."
Cooper and Madeline from Sacred Heart Primary School said, "We are working with Project Compassion to raise awareness of people overseas who are less fortunate than us.  We are not aware how lucky we are just to be able to turn on a tap with clean running water of a morning.  I think we could set-up a 3 km fun run to demonstrate that people overseas walk these distances every day to get water……maybe we could also have everyone balance water on their heads for 1 km."
"We need to be compassionate and raise awareness of what is happening in the world.  We need to give hope to others and show leadership qualities by raising awareness of these problems in our schools and organise a fundraiser for Caritas during lent – something fun," said Arielle from St Anthony's School.
Over 50 leaders from secondary schools also gathered at St Joseph's College for a similar event.
"It was wonderful experience, the girls learned the realities of the developing world and the activities really opened our eyes to the plight of others," said Kat Yates, Mission and Identity Leader of St Saviour's College.
"Leadership Days are an opportunity for leaders to come together to deepen their roles as social justice leaders in their communities, think about what Caritas does in the developing world through involvement with Project Compassion to bring hope to millions of people.  The energy and enthusiasm of students attending the event demonstrates their commitment to building a better world and motivating their peers to be a part of Project Compassion 2019 to achieve this," said Mr Kerry Drysdale, Caritas Education Officer and facilitator of the event.