Media releases
OUR NEW LEADERS FOR 2020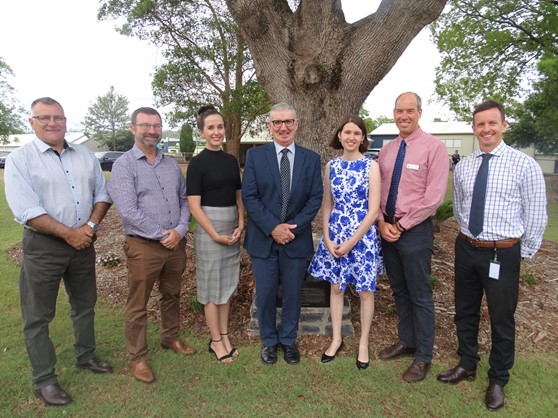 Meet our new principals
Casey Sly - St Maria Goretti School, Inglewood
Casey is already well known to the St Maria Goretti community as a valued colleague and classroom teacher.  Casey is acknowledged in the Toowoomba diocese as an outstanding educator having been recognised in 2018 as a recipient of an Excellence in Teaching Award for Early Career Teachers. She was also nominated for the 2018 Queensland College of Teachers Excellence in Beginning to Teach Award.
Casey began her teaching career at St Mary's School, Goondiwindi and in 2017 moved to St Maria Goretti School, Inglewood.  Casey recently enjoyed successful Acting Principal experience while her predecessor was on leave last year. Casey impressed the interview panel with her passion for the community of Inglewood and her leadership of teaching and learning.
Emily Perry – St Patrick's School, Mitchell
Emily has several years teaching experience in our diocesan schools at Cunnamulla, Clifton and Mitchell and was appointed to the position of  Assistant Principal: Religious Education (APRE) at St Patrick's Mitchell earlier this term. Emily's experience also includes Middle Leader at St Francis de Sales School, Clifton.
Emily has completed a Master's degree in Education (Leadership and Management) from the Queensland University of Technology and a Bachelor of Education (Primary) with First Class Honours from the Queensland University of Technology. Emily also has a Graduate Certificate in Religious Education from the Australian Catholic University and was the recipient of the Toowoomba Catholic Schools Excellence in Leadership — Middle Leadership in 2018.
Emily is looking forward to continuing the excellent school improvement work in the areas of quality teaching and learning with a focus on student and staff wellbeing at St Patrick's School.

Simon Fleming – Assumption College, Warwick
Simon had previously been appointed as Deputy Principal beginning January 2020 however Simon has been appointed to the position of Acting Principal following the appointment of the previous College principal,  Kort Goodman to the position of Principal, St Joseph's College, Toowoomba beginning January 2020.
Simon was Acting Principal at St Joseph's School, Barraba last year on secondment from O'Connor Catholic College, Armidale where he had been on staff since 1986. In that time, he has held a variety of roles including his most recent as Assistant Principal and Curriculum Coordinator. Simon's teaching areas are History, Geography, Legal Studies and Religious Education. He holds a Bachelor of Arts degree and
Diploma in Education from the University of New England with majors in both History and English. He has also completed tertiary studies in Religious Education and Biblical Foundations.
The process of recruitment of a new Principal for Assumption College will begin immediately with the appointee taking up the position Semester 2, 2020.  In the interim Simon will be ably supported by the College's leadership team.
James (Jim) Brennan – St John's School, Roma
Jim, as he prefers to be known, has 28 years' experience in a variety of educational settings including Glendon, Emerald, Roma, Oakey and Toowoomba. Jim was most recently the Senior Deputy Principal at Centenary Heights State High School where he played a significant and integral role in its development into one of the top performing schools in the state. He has taught in P-12 settings as well as primary and secondary schools. Throughout his career, he has been highly regarded as a passionate and exceptional teacher. He was Educational Advisor for Science and Health and Physical education in the Emerald District Office where he supported teachers in schools with their planning and assessments. He has been Head of Department, Science, at Roma Middle School, Oakey State High School and Centenary Heights State High School. Jim was appointed as State Panel Chair, Biology, for Queensland in 2013 and remains in that position today. This appointment is testament to the very high regard he is held in as an educator across the state.
Jim's vision for his principalship at St John's is "to continue the well-established culture that exists and to lead an engaging school community working collaboratively with key stakeholders to achieve continuous improvement for students, staff and the community." Jim brings demonstrated abilities to develop a culture of positive, caring relationships at the same time as having high expectations through accountable practices and processes. He is committed to constantly reviewing systems for the betterment of all in the school community. His deep and thorough knowledge of curriculum enables him to use student performance data to continually evaluate the effectiveness of teaching and learning. This process then informs the instructional decisions that are made to improve student learning. Jim's level of expertise in these processes is exceptional. Jim obtained his Bachelor of Applied Science and Graduate Diploma of Secondary Teaching at the University of Southern Queensland. He is currently enrolled in the Masters of Educational Leadership program at the Australian Catholic University.
Jim and his family are looking forward to re-establishing their connections with Roma.
Martyn Savage - Senior Education Leader
Martyn has had 22 years' experience in education and 11 years in his most recent role as Principal of St Anthony's Catholic Primary School in Alexandra Hills, Brisbane.  Martyn has a Graduate Diploma in Business from Columbia University, a Master's in Education Leadership (ACU) and a Diploma in Religious Education along with a Bachelor of Education.  Martyn is also in the final stages of study in a MBA with Griffith University. He is an ACEL Qld Executive Board member and a Grants Committee member and Resource Development Forum member for the Catholic Foundation Archdiocese of Brisbane.
Martyn is looking forward to working with our schools throughout the diocese.


Paul Herbert – Acting Senior Education Leader
Paul has taken on this role for 2020 in addition to his position as Education Officer. He will be looking after organisational matters associated with line management and communications.