Media releases
New leadership for a number of Toowoomba and South West Queensland schools in 2018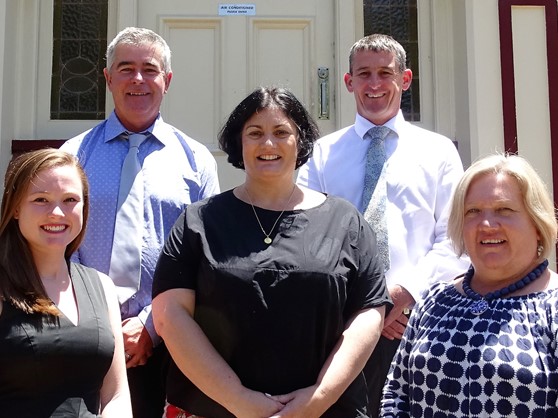 Whilst families still have a few weeks to prepare to head back to school, work is already underway for a number of new principals joining Catholic schools in Toowoomba and the south west.
The Toowoomba diocese stretches some 488,000 square kilometres, and its 31 schools will educate more than 9,000 students this year.
Toowoomba Catholic Schools Executive Director, Dr Pat Coughlan said he was delighted to welcome a number of principals who had moved from other schools both within the diocese, and beyond, as well as those beginning their journey as a principal.
"Taking on the role of principal of a school is no easy feat, with the raft of responsibilities commanding a person of remarkable stamina both professionally and personally," Dr Coughlan said.
"We are very fortunate to have such strong leaders who want to continue to make an impact on the lives of our students as together we strive for academic success for all and to make the person of Jesus known in our school communities."
"The Catholic school, particularly in a smaller community is a lively hub and an integral part of the social fabric of the town.   Principals, and teachers for that matter, find themselves quickly becoming immersed in community life and there is something very special about that," Dr Coughlan said.
Emerging leader Ms Pollyanna Crawford, is heading back to Sacred Heart Parish School in Cunnamulla as Acting Principal, a school she taught at very early in her career, whilst Andrew Kendall has been appointed the principal of St Joseph's School Stanthorpe following time acting in the role last year.
Mr Michael Ward last year said farewell to St Peter's in Caboolture to take the reins at St Mary's School in Charleville, replacing former Principal Ms Louise Pfingst, who is heading to St Anthony's Primary School in Toowoomba.
Ms Madonna Sleba returns to the Diocese from Brisbane to lead St Saviour's Primary School, Toowoomba - the school where she was educated. Mr Peter Cuskelly is the new principal at Our Lady of the Southern Cross College in Dalby.
School resumes on Monday 22 January.
-ends-