Media releases
NAPLAN testing goes digital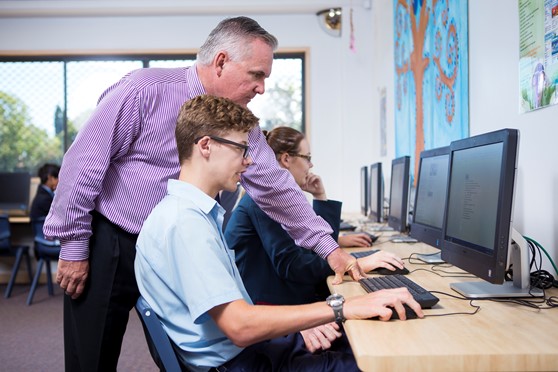 In May of every year, students in Years 3, 5, 7 and 9 take part in the National Assessment Program – Literacy and Numeracy (NAPLAN).
NAPLAN was first introduced in 2008 and has become a routine part of the school calendar in Australia.
Recently, all Australian education ministers have agreed that schools will use NAPLAN Online by 2020.
This year, approximately 15% of schools across Australia will take part in NAPLAN online.
Dr Pat Coughlan, Executive Director: Toowoomba Catholic Schools said NAPLAN provides an important snapshot of how students are tracking.
"Across our 31 schools, we use NAPLAN as part of the picture in gauging how our students are performing against their peers in key curriculum areas," he said. The Toowoomba Catholic Schools completing NAPLAN online this year include Assumption College, Warwick; St Mary's College, Toowoomba; St Maria Goretti Primary School, Inglewood; St Francis de Sales School, Clifton; St Joseph's Primary School, Chinchilla; St Saviour's Primary School, Toowoomba.
"We understand that this online testing will include a wider range of question types and a broader range of skills will be assessed.

It will also feature tailored testing where the test automatically adapts to student performance, providing more precise results and a more engaging test experience for students," Dr Coughlan said. Students have reported this form of testing is less stressful as it allows them to demonstrate what they know.
"Test results will be available in a reduced timeframe compared to pen and paper assessments. "This will help our teachers and schools to respond more quickly to identified learning priorities and needs than is currently possible with the NAPLAN paper tests results and information," Dr Coughlan concluded
Parents, students and teachers can familiarise themselves with NAPLAN Online, as well as the types of items to be included in the online tests by using the public demonstration site available at the website www.nap.edu.au