Media releases
MEET OUR NEW PRINCIPALS FOR 2019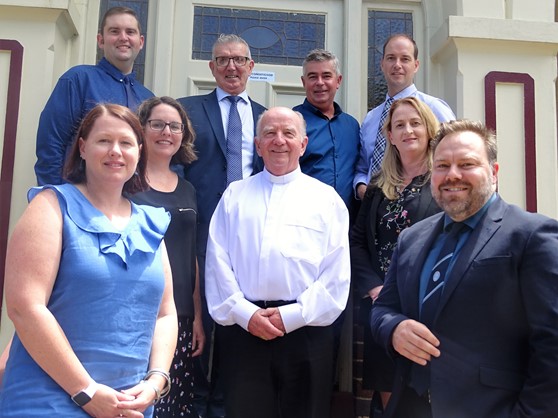 A warm welcome to all new staff who have joined Toowoomba Catholic Schools (TCS) in various roles this year. Welcome to the new principals in the diocese, some to Toowoomba Catholic Schools for the first time and others to a new role or school.
Luke Barrett – St Monica's School, Oakey
Luke is a home-grown leader, beginning his teaching career in Millmerran before taking on leadership roles at St Anthony's, Toowoomba and at St Joseph's, Millmerran.
"I believe that to be a good principal you must continue to teach and learn," said Luke. "In working with and alongside teachers a professional learning community flourishes.  My Catholic values inform my faith leadership and the growing of a culture that values staff and students alike."
Luke's rural leadership experience and success made him the right choice to follow retiring principal, Mr. Roly Poulton.
Christopher Gabbett – Mary MacKillop Catholic College, Highfields
Chris is excited to be returning to the Toowoomba region after spending several years in the United Kingdom in senior leadership and advisory positions in Catholic colleges, including that of principal for the past 7 years. 
"My career in education has taken me from the Gold Coast hinterland to several education posts in the United Kingdom, as well as study at Oxford and St Mary's University, Twickenham. I have a real passion for fostering a loving, empathetic community that brings people together with a strong focus on learning and progress. I am very much looking forward to reconnecting with those I know from my youth and my family who are here in Toowoomba."
With Mary MacKillop Catholic College continuing to grow, moving to a P-11 school in 2019, Chris' extensive leadership will be invaluable to the college community.
Liisa Hammond – Youth and Community Learning Centre, Toowoomba (YCLC)
Liisa has a breadth of career experiences in supporting young people to get back on track and successfully transition to work because of their re-engagement in education.
Having been a school leader at St Mary's College, St Ursula's College and Centenary Heights SHS and acting principal at YCLC, Liisa has come to know the Toowoomba community well.
"I am passionate about working with the young people who attend YCLC, focusing on their learning and wellbeing; developing their self-belief and capability.  My vision is to support the teachers to provide high quality alternative education for young people and to build stronger connectivity to Toowoomba's Catholic secondary colleges," said Liisa.
Melissa Hobson – St Joseph's School, Chinchilla
Mel successfully acted as principal at St Joseph's for Semester 2, 2018 and is pleased to be continuing in the role as principal from 2019.
"I am excited about continuing the work I started at St Joseph's in 2018. I am particularly looking forward to  the building works and expansion of our school with the construction of four new general learning areas to support our growing community," said Mel.
Mel has held many teaching and leadership positions in schools across the Diocese and is known for developing quality teaching and learning practice and building strong and supportive relationships with school staff and the wider school community. She also brings a very strong Catholic faith and is actively involved in her faith community.
Lawson Short – St Joseph's School, Millmerran
Lawson has been appointed as acting principal at St Joseph's for 2019. 
Having grown up on a cattle property north of Toowoomba and attending Catholic schools himself, Lawson was drawn to working in rural schools. On completion of his teaching degree Lawson was appointed to Sacred Heart Primary School, Cunnamulla.
Lawson is well respected amongst his peers for his teaching of literacy and the relationships he builds with students, families and staff. Having successfully mentored several early career teachers, Lawson is particularly looking forward to this aspect of the principal's role.
Emma Timmins – St Mary's School, Warwick
Emma is moving back to the Toowoomba Diocese after spending the last five years as principal of St Joseph's School, Wingham, NSW.
"I am really looking forward to getting to know the staff and parents of the St Mary's community and working together with teachers in their classrooms," said Emma.
"St Mary's already has a strong learning agenda and great plans for its future; being a part of this and continuing the work started by Margaret Grew is what motivated me to apply to be the principal and I am delighted to be starting in that role in 2019."