Media releases
MATER DEI PRIMARY SCHOOL OPENS NEW BUILDING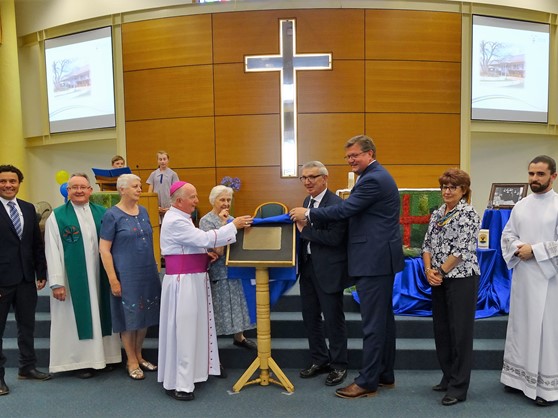 On Wednesday, November 21 Mater Dei Primary School celebrated a significant milestone with the Official Blessing and Opening of the newly built Good Samaritan Building. 
Bishop Robert McGuckin, Bishop of the Diocese of Toowoomba conducted the ceremony with school leaders and the Mater Dei Choir participating in the service. 
Other Official Guests for the Blessing and Opening included Dr Patrick Coughlan, Executive Director: Diocese of Toowoomba Catholic Schools, Mr Trevor Watts MP, LNP Member for Toowoomba North, Councillor Anne Glasheen, Toowoomba Regional Council, Reverend Father Brian Noonan, Mrs Monica Brennan, Parish Pastoral Associate, Good Samaritan Sisters, Sister Una McGary and Sister Bronwyn Klease, Mr Chris Bartlett, Principal: Mater Dei School along with members of the Toowoomba Catholic Schools Leadership Team and Principals from other Toowoomba Catholic schools.  The ceremony was also attended by Mater Dei students, staff and parents.
The new facilities were constructed through State Government Funding of $946,263 and a School contribution of over $1.3 million.
The building has been called the Good Samaritan Wing in honour of the School's founders in 1917 – The Good Samaritan Sisters.  At that time the School was called Holy Angels.
Currently the new rooms are being used to service Year 4 to Year 6 students for Music, Speech & Drama, Art, Japanese and Learning Support lessons.  The creation of this new space enables the school to grow into a three-stream school from Prep to Year 6.
"Since its beginnings in 1918 Mater Dei has celebrated many milestones, not the least of which was their centenary earlier this year.  It is a shining example that Catholic Education in the Toowoomba Diocese is alive and well and making a valuable educational contribution to many communities".  "As you can see in these new facilities, school environments have changed considerably in the last 20 years, until relatively recently there was little understanding of the physical environment of a school as an integral part of the curriculum, rather than simply a backdrop to the curriculum". "Learning environments engage and foster a sense of ownership, belonging and respect when they are aesthetically pleasing, reflect the identity and culture of the community, and encourage a connection to place.  As such the physical environment of the school plays a critical role in promoting and facilitating the active engagement of students in their learning" said Dr Pat Coughlan, Executive Director: Diocese of Toowoomba Catholic Schools.
…ENDS…
CONTACT:           
Donna Kerr | Communications Officer | 07 4637 1408 | 0428 793 718 | donna.kerr@twb.catholic.edu.au